Super Talent Product Specifications
Super Talent may be a new name for many, but they have been designing memory products for about 20 years. A quick look at their website will show the heavy emphasis on flash products as well as memory products. The Super Talent design center is located in San Jose, California, and their website emphasizes their US memory manufacturing facilities.
Those familiar with the memory industry may be interested in another tidbit about Super Talent. Joe James, who was formerly a key member of the Corsair Marketing team, is now at Super Talent. Certainly that says quite a lot about the directions Super Talent will likely pursue in future memory products.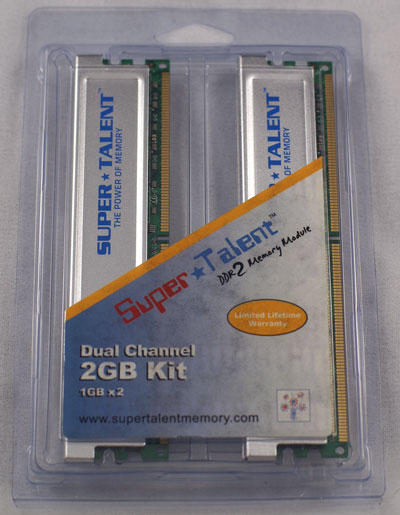 One area where Super Talent definitely needs some work is packaging. The Super Talent labeling is so basic you have to look up the product code just to figure out memory speed and suggested timings. The label on the plastic clamshell looks as if it were designed by a grade-school student to be proudly displayed on the family's refrigerator. If Super Talent wants to be regarded as a serious player in the high-end memory market, they definitely need to invest in an upgraded look to their packaging.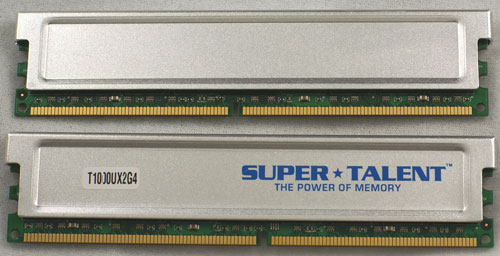 The T1000UX2G4 was supplied as a 2GB kit with a matched pair of 1GB DIMMs. The Super Talent DIMMs feature aluminum heatspreaders with blue labeling. The DIMMs themselves are a lot more attractive than the packaging. The website pictures recent "overclocking" memory with solid blue heatspreaders. Product information is available at
the Super Talent site
and shows the DDR2-1000 memory is available as single 1 GB DIMMs or as a kit of two 1GB DIMMs (2GB total). We tested the 2GB kit.
Super Talent T1000UX2G4 Memory Specifications
Number of DIMMs & Banks
2 DS
DIMM Size
1GB
Total Memory
2 GB
Rated Timings
4-5-4-15 at DDR2-1000
Rated Voltage
Not Specified
The Super Talent Warranty is stated to be Lifetime, and the customer may have to provide proof of purchase. An RMA request is provided on the Super Talent website on
the warranty page
.
TEAM Xtreem DDRII-1000 Product Specifications
Team Group Inc. was established in Taiwan in 1994 as a manufacturer and wholesaler of computer components. TEAM is a company with a worldwide presence in memory modules, flash memory cards, and USB flash drives. All manufacturing is in Asia, but TEAM has US Sales and Marketing offices. Distribution is handled by centers in Taiwan, Hong Kong, and the USA, but TEAM plans additional distribution centers for the future.
TEAM products have performed well in past memory reviews at AnandTech, but we were a bit skeptical of how a product rated at DDR2-1000 5-5-5-15 would compare to the best DDR2 memory we have tested. As you will see in the results, the TEAM DDR2-1000 performed very well.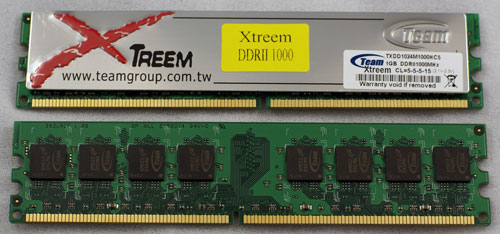 Compared to the very basic Super Talent design, TEAM has a distinctive Xtreem heatspreader embossed with the red Xtreem, the TEAM logo, and the web site address (
www.teamgroup.com.tw
). The website itself is pretty slick and full of good information about TEAM products. This even includes forums in both English and Chinese.
TEAM TXDD2048M1000HC5DC Memory Specifications
Number of DIMMs & Banks
2 DS
DIMM Size
1 GB
Total Memory
2 GB
Rated Timings
5-5-5-15 at DDR2-1000
Rated Voltage
2.1V to 2.3V)
Test DIMMs were a 2GB kit composed of two 1GB DIMMs rated at DDR2-1000. TEAM DDR2-1000 is available as a 2GB kit (2x1GB) or as individual 1GB DIMMs.