Buffalo FireStix Product Specifications and Information
Buffalo Technology has become a well known manufacturer of memory, wired and wireless network products, and storage solutions. You will find a full range of Buffalo memory products available from many on-line resellers, including regular DIMMs, SO-DIMMs, and Registered memory for servers, desktop computers, and notebooks. Buffalo may not be the first name that comes to mind when Enthusiasts are looking for high-performance memory, but Buffalo has a successful line of Enthusiast products marketed under the FireStix name.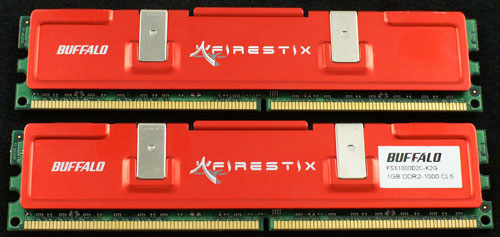 Typical of the FireStix line, the PC2-8000 kits feature bright red heatspreaders. The DIMMs stand out in your installation, and they also carry the extra protection of a lifetime warranty. Rated performance is at 2.1V compared to the DDR2 standard voltage of 1.8V, with DDR2-1000 timings specified as 5-5-5. Both 1GB (2x512MB) and 2GB (2x1GB) kits are available in the DDR2-1000 (PC2-8000) speed. The Part Number for the tested 2GB kit is FSX1000D2C-K2G.
Buffalo FireStix PC2-8000 Memory Specifications
Number of DIMMs and Banks
2 DS
DIMM Size
Total Memory
1GB
2GB
Rated Timings
5-5-5 at DDR2-1000
Rated Voltage
2.1V
Additional Information is available
at the Buffalo website
. There are also instructions on the website for returning memory for repair or replacement under the Lifetime Memory Warranty
Crucial Ballistix Product Specifications and Information
The DDR2 market enjoyed some incredible DDR2 performance early in its life with a Micron DDR2 chip that we have since come to know as Fat Body D9. Everyone who made DDR2 used these chips because the performance was so outstanding, and when Micron decided to discontinue them last year, memory makers began scrambling for a replacement. Thus far, they haven't found a new DDR2 chip with the same low latency and high frequency capabilities of the now legendary Micron chips.
Earlier this year a new buzz began that Micron and their Crucial direct sales arm would be introducing a new and even better DDR2 memory chip. In early April we tested OCZ PC2-8000, the first memory to use the new Micron DDR2 memory chips. Now, almost 3 months later, with the AM2 launch behind and the Core 2 Duo launch around the corner, we get our first glimpse of the Crucial modules based on the new DDR2 chips.
Crucial is the retail arm of Micron - the huge US memory maker located in Boise, Idaho. Crucial is primarily a direct sales arm, providing Internet and telephone sales to memory buyers looking for almost any kind of memory for their computers, laptops, and servers. Crucial calls their performance memory Ballistix, and reserves the name for just a small percentage of their top-performing memory.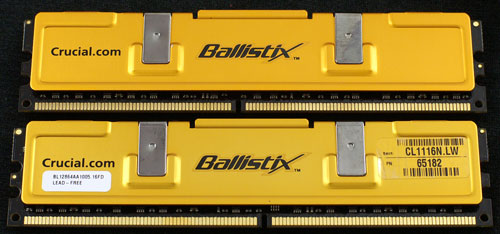 Test DIMMs were a 2GB kit composed of two 1GB DIMMs. DIMMs were supplied with the distinctive copper/mustard colored Ballistix heatspreaders. The Ballistix 2GB Kit carries a Part Number of BL2KIT12864AA1005. Crucial Ballistix products carry a Lifetime replacement warranty. They are also guaranteed to meet the specifications published on the Crucial website for that specific Ballistix product.
Crucial Ballistix PC2-8000 Memory Specifications
Number of DIMMs and Banks
2 DS
DIMM Size
Total Memory
1GB
2GB
Rated Timings
5-5-5-15 at DDR2-1000
Rated Voltage
2.2V
The Ballistix line of DDR2 Memory is extensive, ranging from single 256MB to 1GB DIMMs all the way to 512MB, 1GB, and 2GB kits of matched pairs of DIMMs. DDR2 memory speeds available in the Ballistix line include PC2-4200, PC2-5300, PC2-6400,and PC2-8000 (DDR2-533 to DDR2-1000). Orders may be placed directly at the
Crucial website
.