BIOS
The GIGABYTE MZ31-AR0 is using a basic version of its UEFI BIOS. This is designed for substance over style with its basic GUI which consists of a grey background, with blue text and white highlighting. As the firmware is so primitive, the firmware has no screenshot hotkey function, and we obtained the images through the Aspeed AST2500 remote management controller by logging in using a web browser.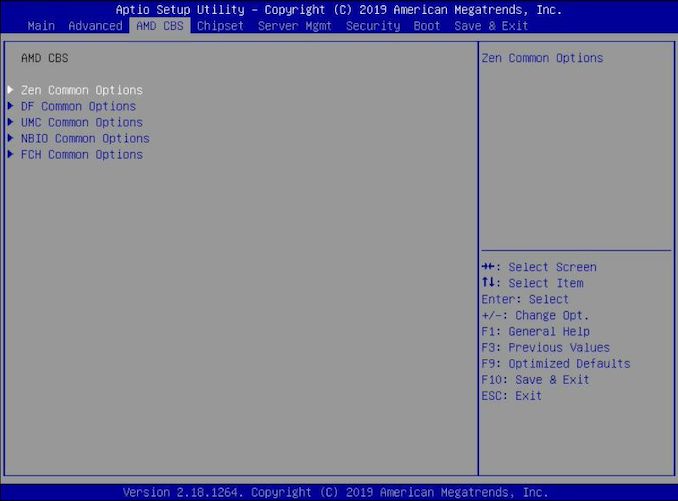 Most of the options to control AMD EYPC processor functions such as global C-state control, downcore control, and power state relating settings can be found under the AMD CBS menu. For networking options, storage, and PCIe related options can be found in the Advanced section. The Aspeed AST2500 BMC functions and options can be found in the server management section with options for both BMC VLAN and BMC networking configuration.
The GIGABYTE MZ31-AR0 firmware is no-frills with professional users in mind. It includes an easy to use GUI and we found it stable to use. The firmware has plenty of professional-level BIOS functions, avoids any of the usual consumer-based desktop model fluff found on other models
Software
Users looking to access the Aspeed AST2500 BMC controller via a network can do so via the dedicated Gigabit Ethernet port on the rear panel. The baseboard management controller (BMC) can be accessed through the D-sub video output physically, or remotely through a dynamic or static IP address assigned to the AST2500 controller.

The GIGABYTE Server Management access panel has plenty for users to tuck into. Users can control the power status including remotely rebooting, powering up, or powering down provided the gigabit Ethernet port is physically connected to a network. There are options for monitoring the hardware itself, as well as accessing the system through a virtual media session using the KVM client which utilizes HTML5; this is limited to Mozilla Firefox, Google Chrome, and Microsoft's Internet Explorer. A GSM client can also be set up physically on a system which uses Java for its interface.
The GIGABYTE MZ31-AR0 doesn't include any form of media, and GSM will need to be downloaded directly from the official product page. Alternatively, users can log in through a web browser using the systems IP address for full control. The GSM utility works well with the board and provides all the usual functions expected from a server-grade motherboard.