AnandTech Storage Bench - The Destroyer
The Destroyer is an extremely long test replicating the access patterns of very IO-intensive desktop usage. A detailed breakdown can be found in this article. Like real-world usage, the drives do get the occasional break that allows for some background garbage collection and flushing caches, but those idle times are limited to 25ms so that it doesn't take all week to run the test. These AnandTech Storage Bench (ATSB) tests do not involve running the actual applications that generated the workloads, so the scores are relatively insensitive to changes in CPU performance and RAM from our new testbed, but the jump to a newer version of Windows and the newer storage drivers can have an impact.
We quantify performance on this test by reporting the drive's average data throughput, the average latency of the I/O operations, and the total energy used by the drive over the course of the test.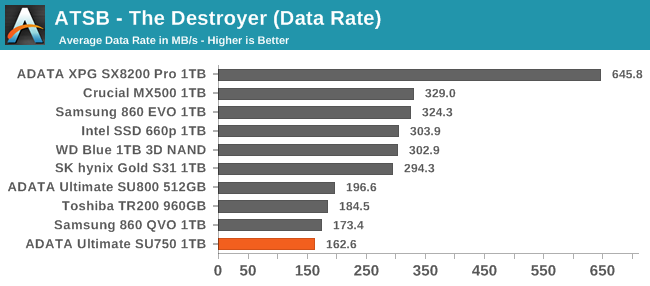 The ADATA Ultimate SU750 comes in last place for overall performance on The Destroyer. The slower tier of drives also includes the QLC-based Samsung 860 QVO, the DRAMless Toshiba TR200 and the older, smaller SU800. The mainstream SATA drives with TLC NAND and full-size DRAM caches are about twice as fast overall as the DRAMless SU750.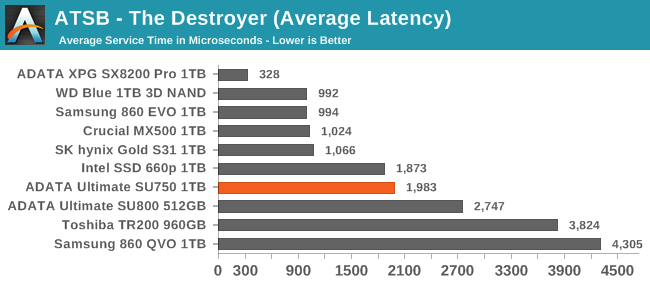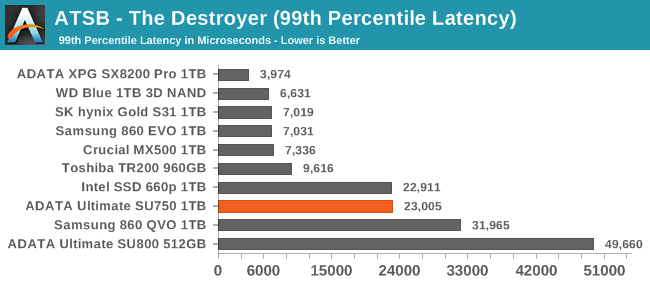 The latency scores for the SU750 aren't as bad as the average data rate score. The SU750 is still clearly much slower than the mainstream SATA drives whether you look at the average latency or the 99th percentile latency, but in either case some of the other low-end SATA drives manage to score significantly worse.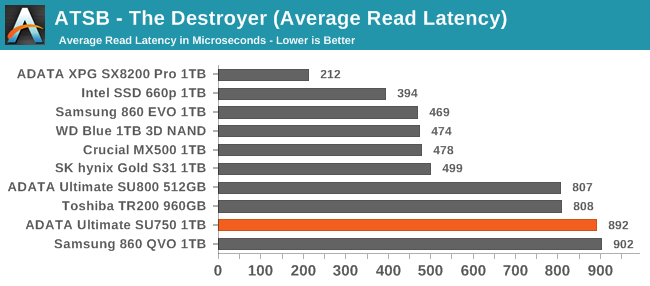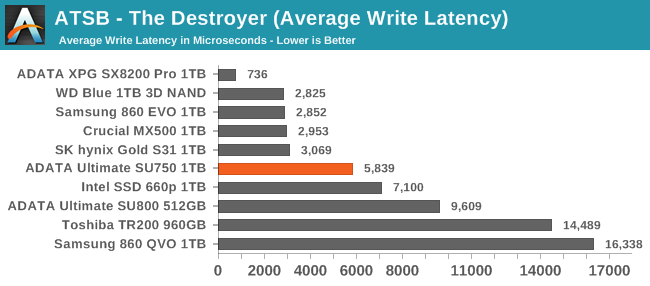 The SU750 is essentially tied for last place for average read latency, though the TR200 and the smaller SU800 aren't much better. For average write latency, the SU750 ends up scoring better than the other entry-level drives, including the Intel 660p NVMe/QLC drive.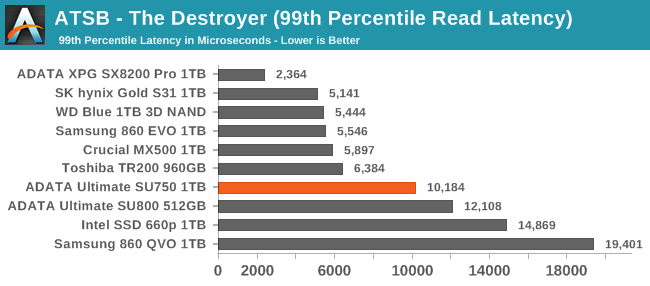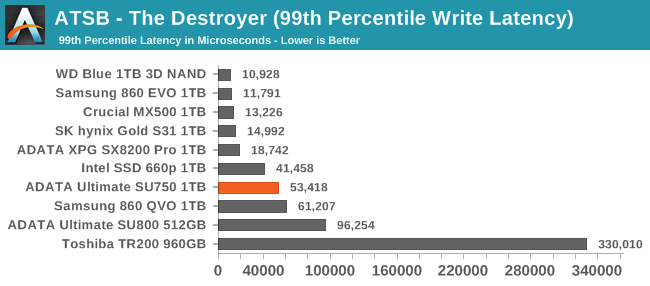 The Toshiba TR200 clearly beats the SU750 for QoS of read operations, but at the cost of having by far the worst 99th percentile write latency. The SU750 avoids being such an outlier and its QoS scores for both reads and writes are typical for an entry-level drive—and worse than any of the mainstream SATA drives.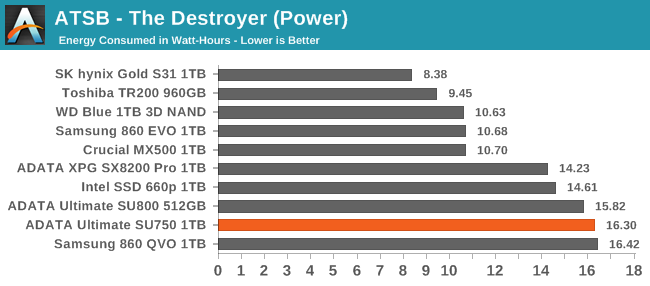 Very slow drives have to keep sucking down power for a longer period of time before completing The Destroyer, so their total energy usage usually ends up being higher than that of faster drives. In this batch of drives, the ADATA SU750 is second only to the 860 QVO for high energy consumption, with both requiring at least 50% more energy than the mainstream SATA drives.