Sound Card
Recommendation: Onboard sound
Price: $0
There is no need to waste money purchasing a separate sound card with an entry level system, so obviously we are going to suggest the onboard sound that comes with the ASUS A7N8X-X that we had recommended as the motherboard of choice today. Integrated sound is courtesy of Realtek's ALC650 codec, which is a standard 6-channel solution that will fit basic Windows, gaming, and music requirements.
If you choose ABIT's NF7-S Rev.2, you should realize that because this motherboard has an MCP-T South Bridge, you can bypass its onboard DAC by using the optical out port on the I/O panel of your board, giving you much better sound quality basically for free. However, this requires speakers with the appropriate receiver, which we do not end up recommending for our speakers today, but if you feel like spending a few more bucks, it's not a bad way to upgrade to better sound.
Speakers
Recommendation: Creative Labs SBS270 2.0 Speakers
Price: $20 shipped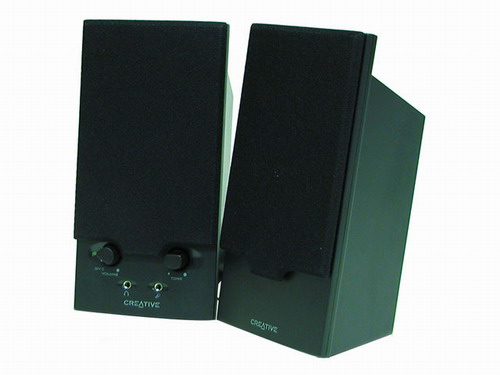 Speakers are a basic requirement for any entry level system, but they aren't that important overall. However, Creative Labs makes a great pair of 2.0 speakers, dubbed the SBS270. These are excellent budget speakers for users who also want to have at least decent sound quality for video games and music listening. It also comes with a headphone input. There's no subwoofer or anything like that, but that's totally unnecessary unless you're keenly interested in a more powerful listening experience.
If you cannot find the lowest prices on the products that we've recommended on this page, it's because we don't list some of them in our RealTime pricing engine. Until we do, we suggest that you do an independent search online at the various vendors' web sites. Just pick and choose where you want to buy your products by looking for a vendor located under the "Vendor" heading.