AnandTech Storage Bench - Heavy
Our Heavy storage benchmark is proportionally more write-heavy than The Destroyer, but much shorter overall. The total writes in the Heavy test aren't enough to fill the drive, so performance never drops down to steady state. This test is far more representative of a power user's day to day usage, and is heavily influenced by the drive's peak performance. The Heavy workload test details can be found here. This test is run twice, once on a freshly erased drive and once after filling the drive with sequential writes.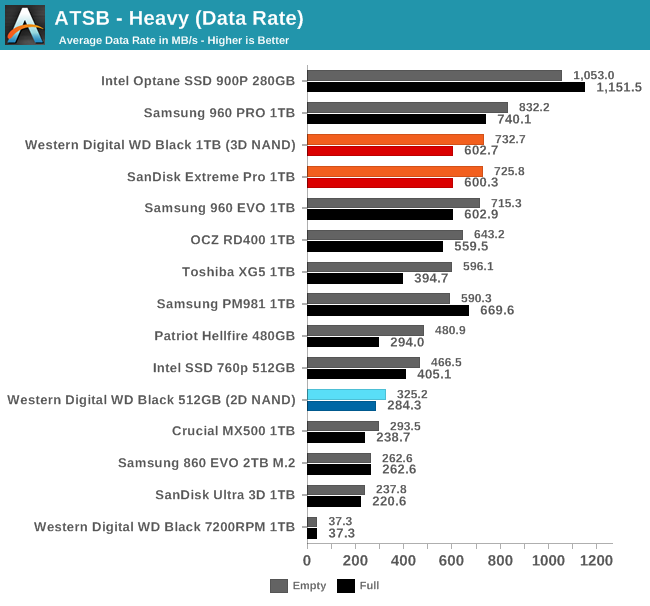 The average data rates from the new WD Black SSD on the Heavy test are essentially tied with the Samsung 960 EVO. Premium drives like the Samsung 960 PRO and Intel Optane SSD 900P are faster, but the WD Black and SanDisk Extreme PRO NVMe SSDs still clearly belong in the high-end market segment.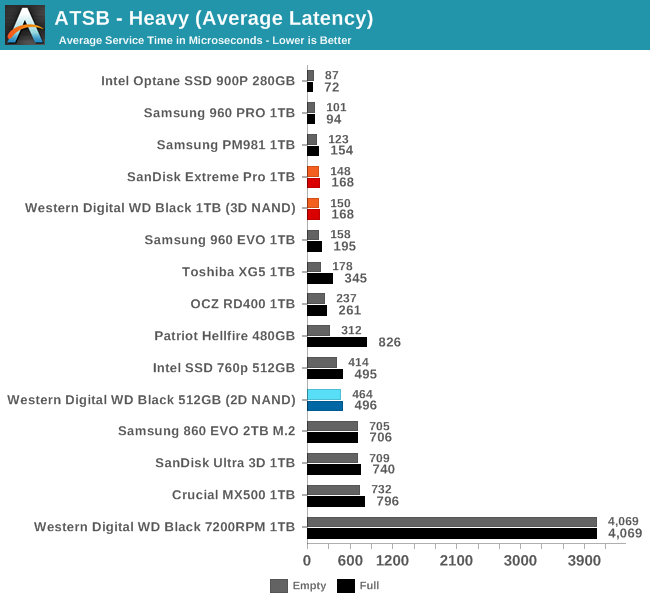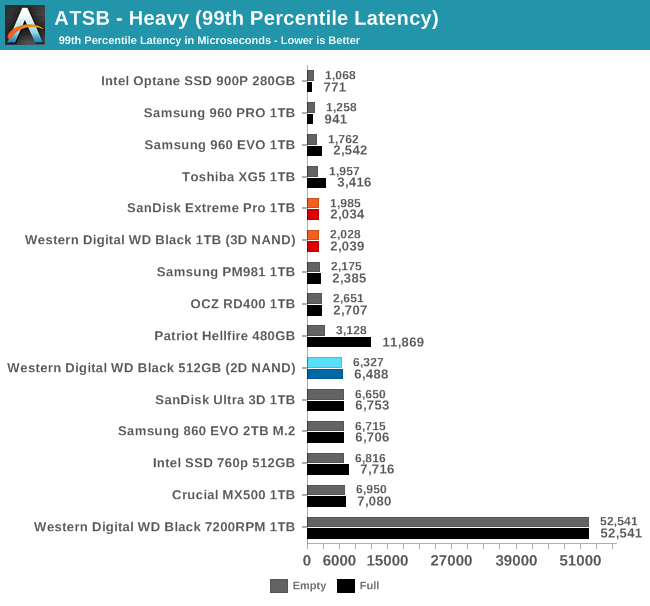 The average and 99th percentile latency scores from the WD Black on the Heavy test are among the best from any flash-based SSD. The 99th percentile write latency of the WD Black shows much less performance loss from a full drive than the Toshiba XG5 or Samsung 960 EVO.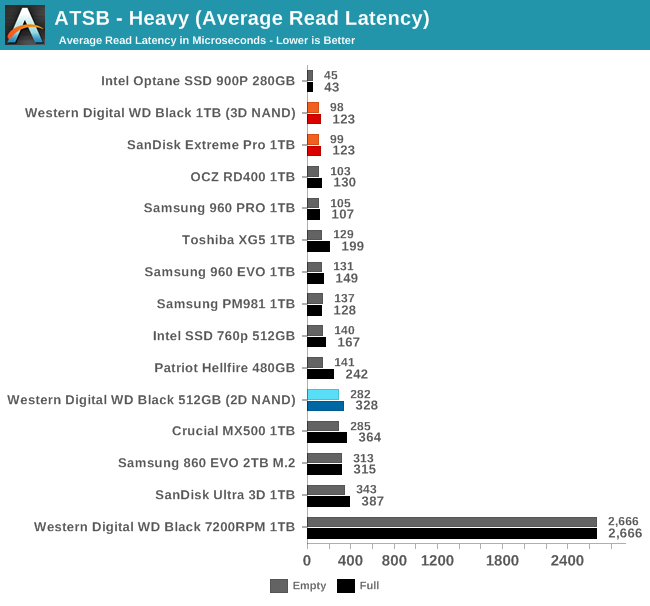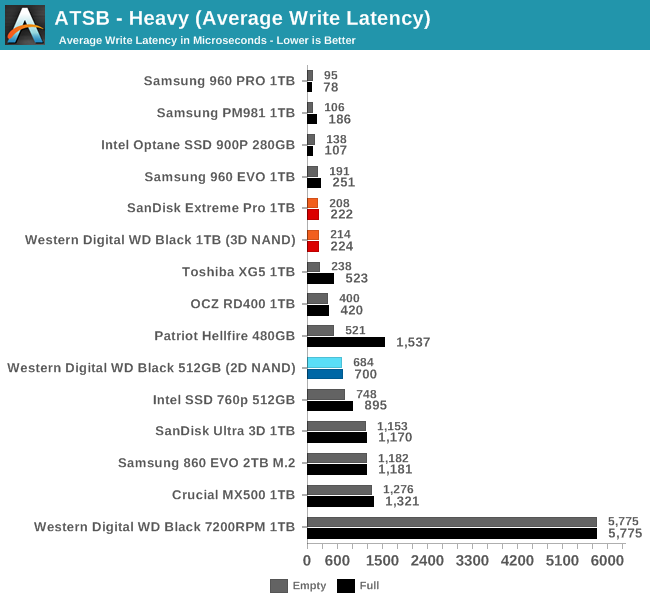 The WD Black is one of the top drives for average read latency, and the average write latency is only slightly higher than that of the Samsung 960 EVO. The performance hit when the test is run on a full drive is no worse than what most MLC-based drives suffer.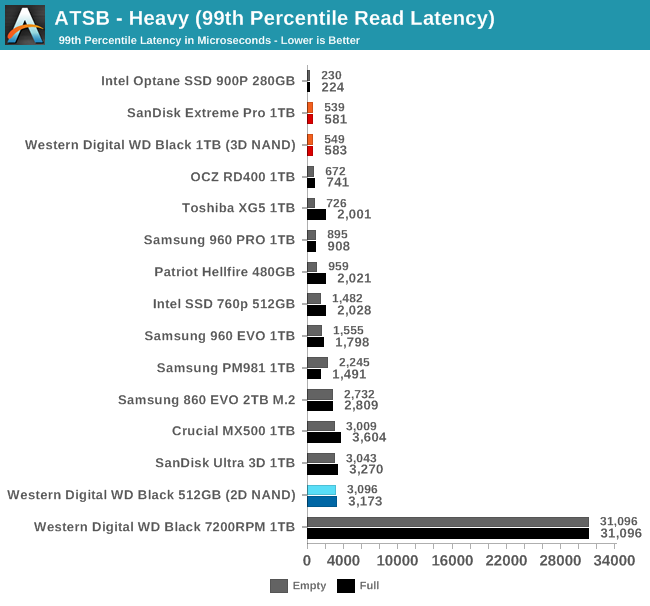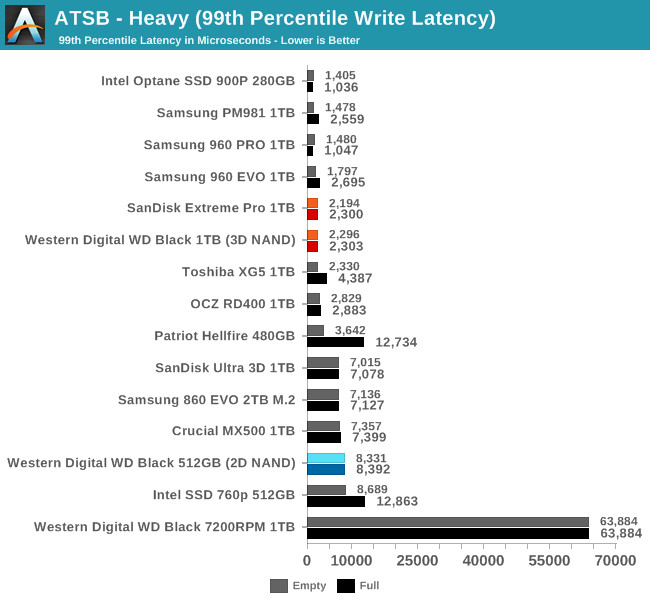 Western Digital's new controller architecture provides great QoS for read operations, with 99th percentile latencies lower than any of the competing flash-based SSDs. The 99th percentile write latencies are top notch but don't stand out from the crowd.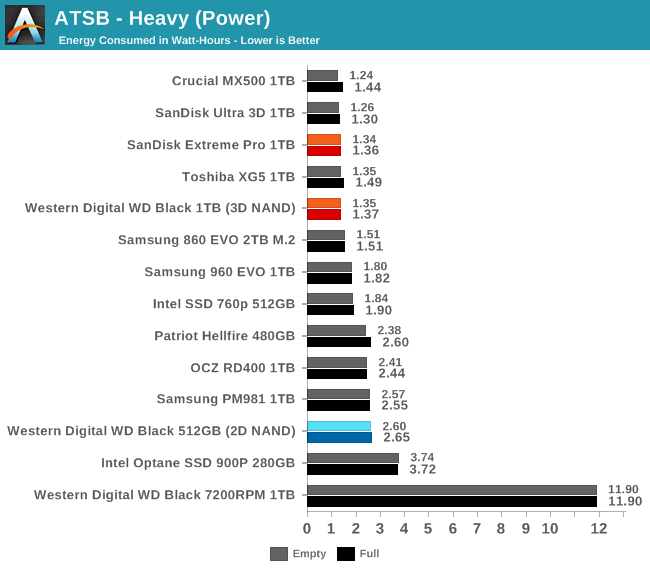 The WD Black and SanDisk Extreme PRO join the Toshiba XG5 as some of the few NVMe SSDs that offer load power efficiency comparable to good SATA SSDs. The total energy used during the heavy test is only slightly higher than the Crucial MX500 and Western Digital's own SATA drives with the same 64L 3D TLC NAND.