GlobalFoundries: Manufacturing Capacities
A portfolio of competitive process technologies is only a part of the equation when it comes to contract manufacturing of semiconductors and the foundry businesss. You have to be able to produce chips in high volumes and meet demands of your customers. As such, during his tenure at GlobalFoundries, Sanjay Jha invested in various fabs to increase their production capacities.
GlobalFoundries' 2017 Expansion Plans
Process Technologies

current and planned
Current Capacity*

wafer starts per month
Planned Increase
Target Capacity*

wafer starts per month
Target Timeframe
Fab 1
(Dresden, Germany)
32 nm SOI
28 nm
22FDX (FD-SOI)
12FDX (FD-SOI)
up to 80,000
+40%
~110,000
2020
Fab 7
(Singapore)
130 nm
65/55 nm
40 nm
RF-SOI
68,000
+35% for 40 nm
Over 68,000
2017~2018
Fabs
(Singapore)
180 nm
unknown
+?% for 180 nm
unknown
2017~2018
Fab 8
(New York, USA)
14LPP
7 nm
up to 60,000
+20% for 14LPP
Over 60,000
Early 2018
Fab 9
(New York, USA)
RF-SOI
90 - 350nm
unknown
+?% for RF-SOI
40,000**
2016
Fab 11 (Chengdu, China)
180/130 nm
22FDX (FD-SOI)
-
-
Ph. 1: 20,000
Ph. 2: 65,000
P1+P2: 85,000
Ph. 1: 2018+
Ph. 2: 2019+
*Please note that actual wafer starts per month (WSPM) output of a fab depends on multiple factors, including process technologies used. As a result, all the WSPM capacity numbers are relative and may not reflect actual performance. Keep in mind, that as foundries and IDMs increase usage of multi-patterning techniques, their effective WSPM output drops as wafers spend more time in the cleanroom. Hence, to keep the wafer starts per month capacity, chipmakers need to add equipment (which may, or may not, involve physical expansion of the cleanroom space).

** 200-mm wafers.
Following the Fab 8 upgrades initiated by Ajit Manocha in 2013, GlobalFoundries announced a $55-million upgrade plan for the Fab 9 (a 200-mm fab in Essex Junction, Vermont, that belonged to IBM). This is the primary home of GF's RF-SOI production, and the update is to increase its capacity to 40,000 wafer starts per month (WSPM). In early 2017, GlobalFoundries announced a major effort to increase capacities of the company's existing fabs. In addition, last year the company started to build a new fab near Chengdu, China.
The most recent upgrades of Fab 8 were driven by intention to maximize its output and boost its peak WSPM capacity in the light of quad-patterning usage by the 7LP process technology. As a private company, GlobalFoundries does not comment on its existing production capacities (i.e., we do not know whether the Fab 8 upgrades have been completed or not), but only says that everything has been going on as planned.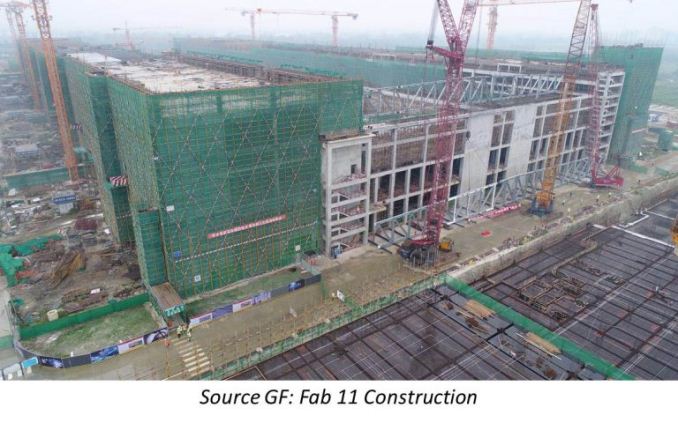 Meanwhile, GlobalFoundries' plans to expand FD-SOI capacity of the Fab 1 by 40% by 2020 clearly indicate that the company pins a lot of hopes on FD-SOI and expects more customers to jump on this bandwagon. For the same reason, the company is building up the Fab 11 near Chengdu: China is among the world's largest consumers of microelectronics and therefore its local chip development industry is expected to thrive in the coming years. Offering those IC designers an inexpensive low-power process technology locally is potentially a very good plan that puts GlobalFoundries ahead of SMIC and UMC (who both yet have to develop something that would be competitive against the 22FDX).
Sanjay Jha's GlobalFoundries: From $4.1 to $6.2 Billion
While construction and upgrades usually proceed smoothly, they tend to cost a lot. In fact, GlobalFoundries has been expanding and upgrading throughout its history, which caused rather extreme spending. In fact, according to Mubadala's financial reports, GlobalFoundries has been losing money throughout its history on various projects and has never been profitable.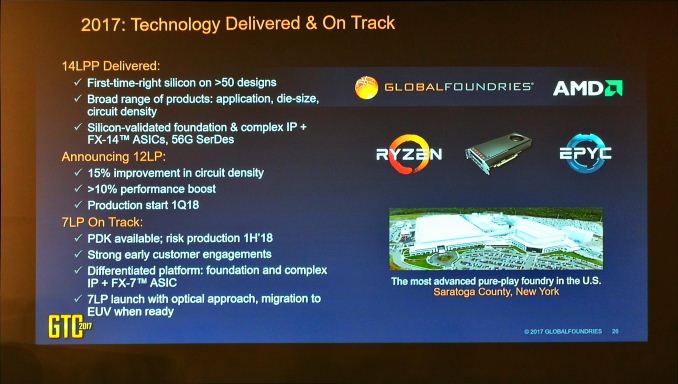 Sanjay Jha has managed to land a variety of new customers and increase GlobalFoundries' sales of semiconductor wafers from approximately $4.1 billion in 2013 to $6.2 billion in 2017 (the latter figure comes from Ahmed Al Idrissi, chairman of GlobalFoundries, but it has not been published yet). Mr. Jha has also succeeded in cutting down GF's losses from $1.5 billion in 2014 to $427 million in 2016. However, the announced upgrades, procurement of new tools, and construction of the new fab near Chengdu naturally increased capital expenditures in 2017: the company's losses in the first half of the year totaled ~$581 million (up from $427 million for the whole year 2016).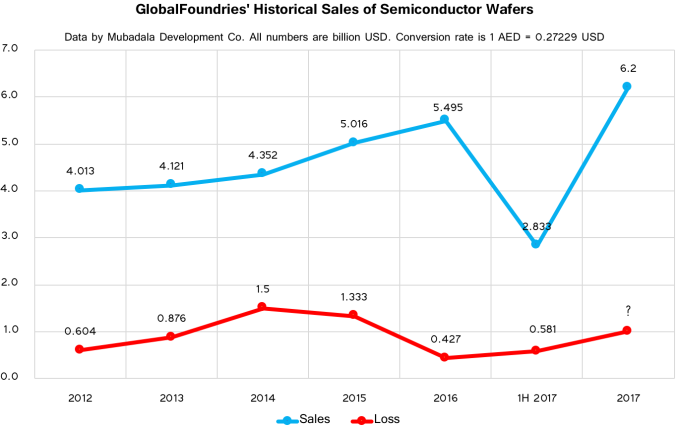 It is noteworthy that GlobalFoundries still has an option to further expand its Fab 8 by building the so-called Fab 8.2 module adjacent to the existing Fab 8.1 and TDC (technology development center). The company reached an agreement about the construction with the Saratoga County Industrial Development Agency back in 2013, but has never exercised the option.
Related Reading