The Noctua NH-C14S
The sheer size of the box hints that the Noctua NH-C14S is not a very compact construct. Much like nearly all of Noctua's products, the artwork on the box is austere, limited to providing useful information about the cooler itself. Inside the box everything is individually packed into separate cardboard boxes. Alongside with the mounting hardware, Noctua is also offering a basic screwdriver for the installation of the cooler, a fan speed reducer, a metallic case badge and a syringe with NT-H1 thermal compound.
Unlike the other two coolers in this review, the Noctua NH-C14S has not been designed to be very compact, but to fill the gap between low-profile coolers and standard tower coolers for users that purchased relatively tall/wide HTPC cases. Although its core design is similar to that of other horizontal coolers, the fin array is wider and much thicker, offering more than three times as much surface area as very low profile coolers. Two small holes can be seen halfway through the array, meant for the provided screwdriver to go through from and reach the screws at the base of the cooler. The first fin of the array is not physically different than the rest, but it does have the company logo punched onto it.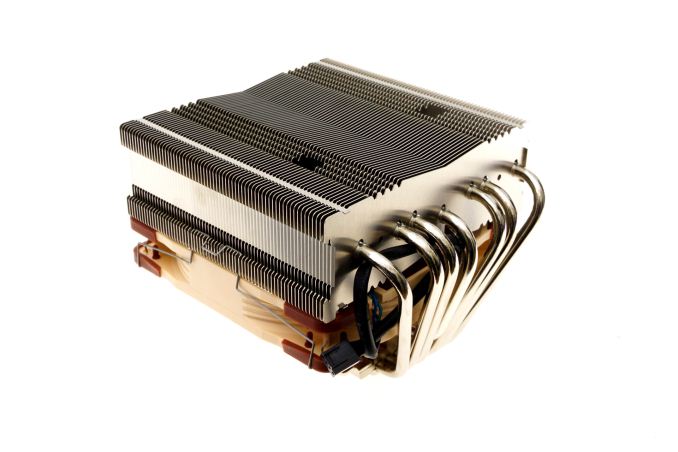 The NH-C14S has a single 140 mm NF-A14 PWM fan installed. The major twist with the design of the NH-C14S is the position of the fan, which is underneath the fin array and is pushing the air upwards through it. Still, standard RAM modules will fit underneath the NH-C14S. The user has the option to place the fan (or another fan) at the top of the fin array, increasing the clearance of the RAM modules by 25 mm but adding the same height to the overall height of the cooler. With the fan at the top of the array, RAM modules up to 70 mm tall can fit, allowing greater hardware compatibility if the case can support a cooler that is 142 mm tall.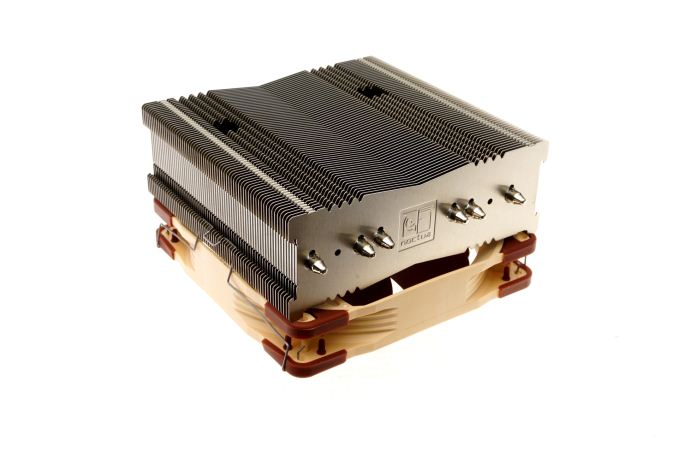 Noctua's Secufirm2 mounting system design has the cooler ready for installation, with the mounting braces and screws already waiting on the base of the cooler. Six nickel plated heatpipes are sandwiched between the copper base of the cooler and its bulky aluminum top. The machining of the base is flawless, without even the slightest imperfection to be found upon close inspection. It seems that the contact surface has been worked from the center out. Although it has not a mirror finish, it is extremely smooth and difficult to soil.