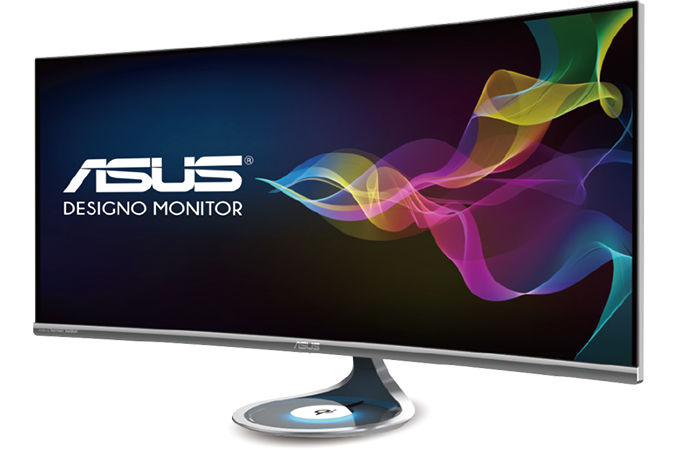 ASUS has introduced its largest Designo Curve display to date that weds style with a sophisticated feature set. The new MX38VQ uses a UWQHD-class (3840x1600) IPS panel and is equipped with a Qi wireless charging pad, as well as a Harman/Kardon-designed audio sub-system. The product will hit the market in the second half of this year and its price will not be very high for its size and features.
ASUS introduced its first Designo-series display eight or nine years ago in an attempt to address customers looking for an elegant design as well as premium specifications. Today, the lineup includes ten 23" to 34" monitors with eye-catching aesthetics that use high-resolution IPS panels and built-in audio co-designed with brands like Bang & Olufsen or Harman/Kardon. The Designo Curve is a relatively new addition to the Designo family as the first monitor in the sub-series was announced in mid-2016. At CES, ASUS introduced the second curved Designo display that will also be the largest monitor in the company's stylish lineup and among the largest ultra-wide displays on the market in general.
The ASUS Designo Curve MX38VQ is based on a 37.5" IPS panel with a 3840×1600 resolution, a 24:10 aspect ratio and 2300R curvature. The rather distinctive specs of the panel may point to the fact that it was sourced from LG and we already know what it is capable of. The resolution of the display is well suited for displaying UHD content filmed in an aspect ratio of 2.35:1 or 2.40:1 (a lot of movies are shot in such aspect ratios). Like the smaller curved Designo model, the MX38VQ uses a stereo audio sub-system co-designed with Harman/Kardon that features two 8 W speakers and software enhancements. As for connectivity, the new monitor has DisplayPort and HDMI inputs, just like many contemporary products.
ASUS Designo Curve MX38VQ
Panel
37.5" IPS
Resolution
3840 × 1600
Refresh Rate
60 Hz
Response Time
5 ms gray-to-gray
14 md standard
Brightness
300 cd/m²
Contrast
1000:1
Viewing Angles
178°/178° horizontal/vertical
Color Saturation
100% sRGB
10-bit (8-bit + FRC)
Pixel Pitch
0.23 mm
Pixel Density
110 ppi
Inputs
1 x DisplayPort 1.2
2 x HDMI 2.0
Qi Wireless Charging
5W/1A with aurora lighting
Audio
8 W × 2
Harmon/Kardon
Launch Price
$1099
One of the main selling points of the new Designo Curve MX38VQ display is a 5W/1A Qi wireless charging pad in the base. So far, only AOC and Samsung have released monitors with Qi charging commercially (the Designo Curve MX34VQ announced last year is still not available) and there are no large high-end displays with this feature on the market right now. Meanwhile, there are tens of smartphones and tablets with integrated Qi wireless charging (including those from ASUS itself, but also from Samsung, Google, HP, Microsoft and other) and there are accessories that enable the tech on devices without integrated support (e.g., on Apple iPhone 6S).
ASUS plans to start selling the Designo Curve MX38VQ in Q3 2017 for $1099, which is considerably lower compared to the current price of the LG38UC99 (~$1600) that allegedly uses the same panel. The monitor is already listed on the company's global website, which may indicate that the product will be available rather earlier than later.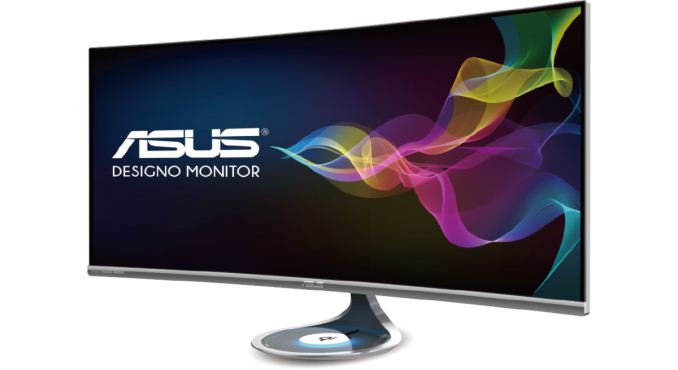 Related Reading:
Source: ASUS