Board Features
The poignant parts to the feature set are the mezzanine card support which enables low form factor networking to be added to the rear panel, and the PCI slots while SLI via a PLX chip is also supported. Aside from that, there isn't much that makes the MW31-SP0 stand out: to counter the dual Intel NICs is a low-end Realtek audio, there's nothing above USB 3.0 and only a single M.2 PCIe 3.0 x4 slot.
GIGABYTE MW31-SP0
Warranty Period
3 Years
Product Page
Link
Price
Newegg US
Size
ATX
CPU Interface
LGA1151
Chipset
Intel C236
Memory Slots (DDR4)
Four DDR4
Supporting 64GB
Dual Channel
Up to 2133 MHz
Memory Slots (DDR3L)
None
Video Outputs
HDMI
DisplayPort
Network Connectivity
Intel I219-LM
Intel I210
Onboard Audio
Realtek ALC887
PCIe Slots for Graphics (from CPU)
2 x PCIe 3.0 (x16/x16 via PLX)
PCIe Slots for Other (from PCH)
1 x PCIe 3.0 x4 Mezzanine
1 x PCIe 3.0 x2
2 x PCI
Onboard SATA
Four (PCH), RAID 0/1/5/10
Four (Marvell 9230), RAID 0/1/10
Onboard SATA Express
None
Onboard M.2
1 x PCIe 3.0 x4
Onboard U.2
None
USB 3.1
None
USB 3.0
4 x Rear Panel
2 via headers
USB 2.0
2 x Rear Panel
4 via headers
Power Connectors
1 x 24-pin ATX
1 x 8-pin CPU
Fan Headers
1 x CPU (4-pin)
4 x CHA/SYS (4-pin)
IO Panel
1 x Combination PS/2
2 x USB 2.0
4 x USB 3.0
1 x Intel I219-LM GbE Network Port
1 x Intel I210 GbE Network Port
1 x COM Port
HDMI
DisplayPort
Audio Jacks
Optical S/PDIF-Out
Other Features
TPM Header
USB 2.0 Vertical Type-A
Mezzanine Card Slot
Serial Header
Front Audio Header
HDD Back Plane Header
SATA GPIO Header
2 x SATA DOM
I'm surprised we get a PLX chip here, just because it shoots up the cost of a motherboard that isn't well equipped elsewhere. Part of me is starting to think that GIGABYTE had a specific customer that wanted high inter-GPU communication speed while still on E5 v3 processors.
An additional note – SLI is only enabled with NVIDIA drivers R364.51 and up on Windows. Linux will have to wait for R364 UDA1 or R361 UDA2 for support.
In The Box
We get the following:
Quick Reference Guide
Driver CD
Rear IO Shield
Four SATA Cables
Flexi-SLI Bridge
Flexi-CrossFire Bridge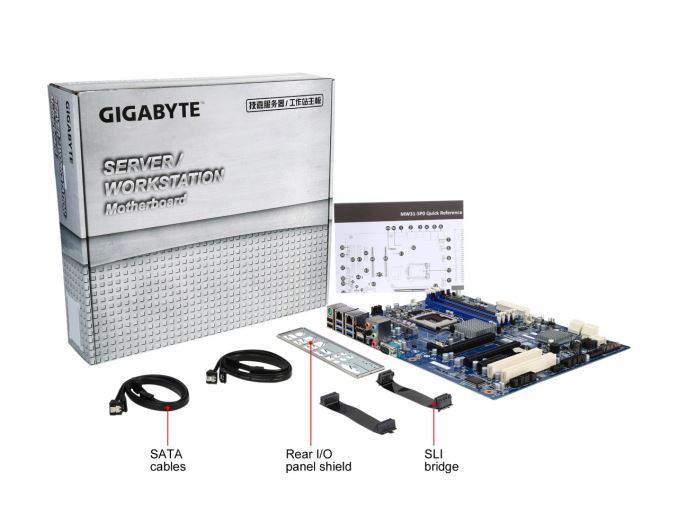 Visual Inspection
Looking at server motherboards is typically a bland affair – no serious attempt to adjust the aesthetics for a clean build is made, but the PCIe slots are all the same color to contrast to the PCI and DRAM parts. But the motherboard looks very busy, especially with the lack of power delivery heatsinks and no discernible markings on the system except for the sole GIGABYTE logo stamped on the PCB.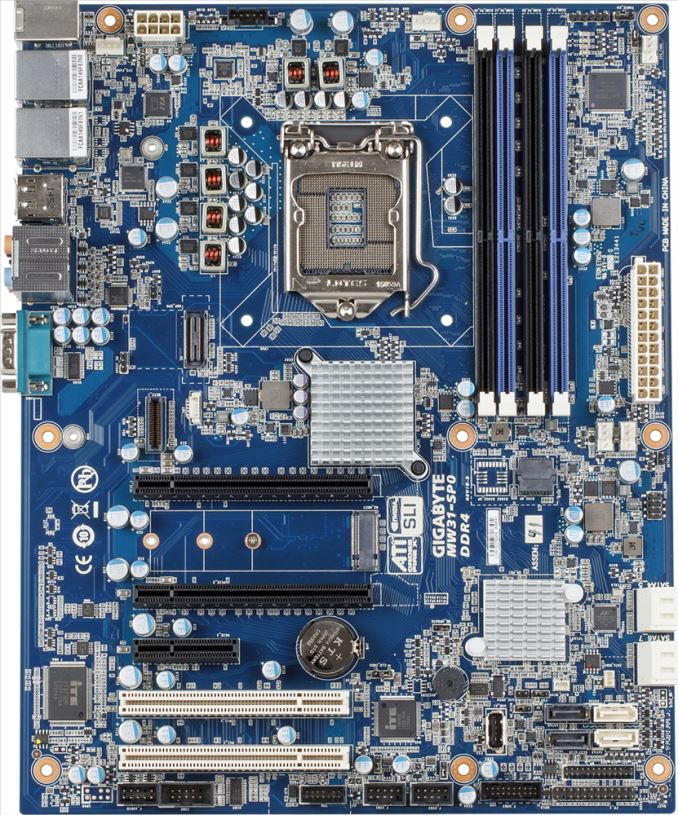 The DRAM slots are pushed right up to the limit of the Intel specifications for cooler design, as shown by the white box around the socket, and it's easy to note that the DRAM slots are unequally spaced even in pairs, meaning that it is unlikely that these slots are designed in a T-Topology type of layout.
All five of the 4-pin fan headers on the board are near the socket to aid for cooling fan positioning. The main CPU fan header is just above the socket, with another on the far left near the rear IO and one on the far right near the edge of the board. The other two fan headers are below the 24-pin power connector on the right.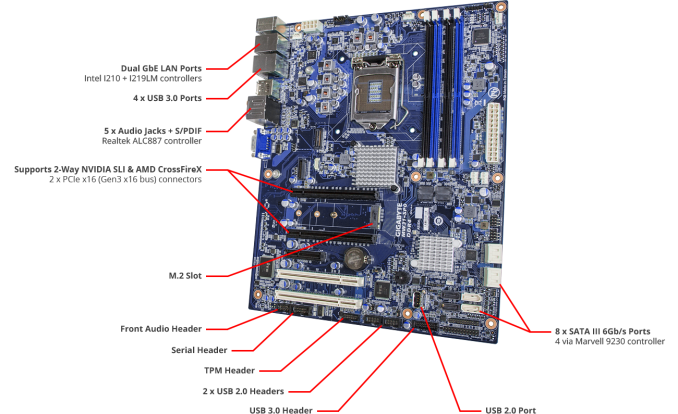 Moving down the right-hand side are the SATA ports, four from the chipset and another four from a Marvell 9230 controller. Despite the color scheme, the middle pair of SATA ports in white are the two SATA DOM ports as per the on-board markings. To the left of the SATA ports we have the small chipset heatsink, a USB 2.0 Type-A port in the middle of the board, the onboard buzzer and the iTE switch for the two PCI slots.
On the bottom we get the front panel header (a standard server header rather than a consumer chassis header, so you need to get out the manual to see which pin does what), a USB 3.0 header, two USB 2.0 headers, a TPM header, the serial header, and the front audio header.
For the PCIe slots, there's some additional routing going on due to the presence of the PLX chip under that heatsink in the middle. The PLX chip takes the sixteen lanes from the CPU and uses an internal FIFO buffer and multiplexer to offer 32 lanes output, which is split between the two large PCIe slots in 3.0 x16 fashion. With all the CPU lanes used, the chipset is where the rest of the PCIe features get their bandwidth: this includes the PCIe 3.0 x4 M.2 slot, the PCIe 3.0 x4 mezzanine card slot, a PCIe 3.0 x2 slot, the PCIe to PCI switch, the extra Marvell SATA controller and the network ports.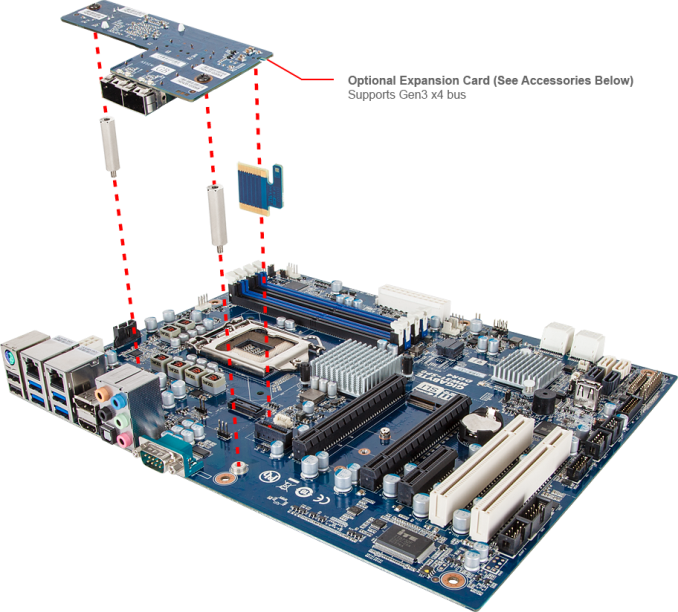 The mezzanine card slot implements a custom L-shaped board propped up by stand offs and a board interconnect for the data and power lines. In the image, GIGABYTE shows a fiber based networking solution, where the ports sit above the COM port on the rear panel. It's worth noting that there's only enough space for two additional network ports here, suggesting that if a user wanted something more, it would have to come from a PCIe card.

The rear panel, by virtue of making space for the mezzanine card and the serial port, has no surprises. From left to write is the combination PS/2 port, two USB 2.0 ports, four USB 3.0 ports via a VLI Hub, the two Intel network ports, a DisplayPort/HDMI combo, the audio jacks and that serial port.
Test Setup
For this review, there were a couple of issues. Regular readers of our CPU and motherboard reviews will know that the Skylake chipsets do not make it easy to install our regular OS image as USB storage and mice/keyboards are disabled when booting from USB. In order to get around this, most motherboard manufacturers have a 'Windows 7 install' option that injects the necessary driver. This is also seen as 'PS/2 Emulation' in some BIOSes, such that the USB ports are pushed through a PS/2 emulation layer which means they are enabled. For the MW31-SP0, no such option exists, and from what I can gather we won't see it in the future for this board. As a result, we used the latest Win10 evaluation image for our testing.
Readers of our motherboard review section will have noted the trend in modern motherboards to implement a form of MultiCore Enhancement / Acceleration / Turbo (read our report here) on their motherboards. This does several things, including better benchmark results at stock settings (not entirely needed if overclocking is an end-user goal) at the expense of heat and temperature. It also gives an essence an automatic overclock which may be against what the user wants. Our testing methodology is 'out-of-the-box', with the latest public BIOS installed and XMP enabled, and thus subject to the whims of this feature. It is ultimately up to the motherboard manufacturer to take this risk – and manufacturers taking risks in the setup is something they do on every product (think C-state settings, USB priority, DPC Latency / monitoring priority, overriding memory sub-timings at JEDEC). Processor speed change is part of that risk, and ultimately if no overclocking is planned, some motherboards will affect how fast that shiny new processor goes and can be an important factor in the system build.
For reference, the GIGABYTE Server MW31-SP0, on our testing BIOS F02, MCT was not enabled by default. Also, the FCLK 10x ratio was not present in the BIOS tested at the time of testing.
Many thanks to...
We must thank the following companies for kindly providing hardware for our test bed:
Thank you to AMD for providing us with the R9 290X 4GB GPUs.
Thank you to ASUS for providing us with GTX 980 Strix GPUs and the R7 240 DDR3 GPU.
Thank you to ASRock and ASUS for providing us with some IO testing kit.
Thank you to Cooler Master for providing us with Nepton 140XL CLCs.
Thank you to Corsair for providing us with an AX1200i PSU.
Thank you to Crucial for providing us with MX200 SSDs.
Thank you to G.Skill and Corsair for providing us with memory.
Thank you to MSI for providing us with the GTX 770 Lightning GPUs.
Thank you to OCZ for providing us with PSUs.
Thank you to Rosewill for providing us with PSUs and RK-9100 keyboards.