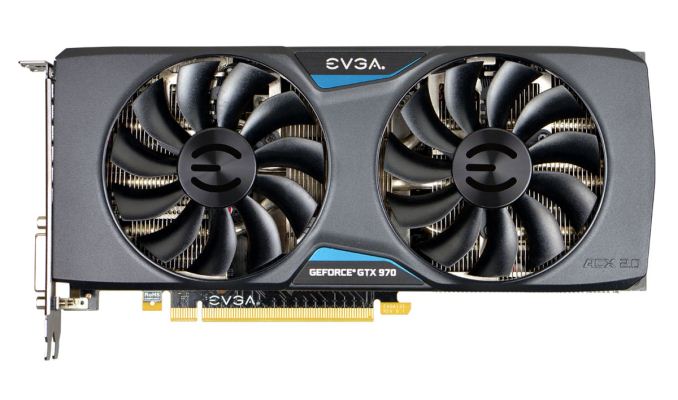 Last week we took a look at NVIDIA's newest consumer flagship video card, the GeForce GTX 980. Based on the company's new GM204 GPU, GTX 980 further cemented NVIDIA's ownership of the performance crown with a combination of performance improvements, new features, and power consumption reductions. Combined with a lower price than the now-dethroned GTX 780 Ti, GTX 980 is an impressive flagship with a mix of attributes that NVIDIA hopes to entice existing 600 and 500 series owners to upgrade to.
Of course even though GTX 980 was cheaper than the outgoing GTX 780 Ti, it is still a flagship card and at $549 is priced accordingly. But as in every GeForce product lineup there is a GeForce x70 right behind it, and for GTX 980 its lower-tier, lower priced counterpart is the GeForce GTX 970. Based on the same GM204 but configured with fewer active SMMs, a slightly lower clock speed, and a lower TDP, GTX 970 fills the gap by providing a lower performance but much lower priced alternative to the flagship GTX 980. In fact at $329 it's some 40% cheaper than GTX 980, one of the largest discounts for a second-tier GeForce card in recent memory.
For this reason GTX 970 is an interesting card on its own, if not more interesting overall than its bigger sibling. The performance decrease from the reduced clock speeds and fewer SMMs is going to be tangible, but then so is a $220 savings to the pocketbook. With GTX 980 already topping our charts, if GTX 970 can stay relatively close then it would be a very tantalizing value proposition for enthusiast gamers who want to buy in to GM204 at a lower price.
NVIDIA GPU Specification Comparison
GTX 980
GTX 970 (CorrecteD)
GTX 780
GTX 770
CUDA Cores
2048
1664
2304
1536
Texture Units
128
104
192
128
ROPs
64
56
48
32
Core Clock
1126MHz
1050MHz
863MHz
1046MHz
Boost Clock
1216MHz
1178MHz
900Mhz
1085MHz
Memory Clock
7GHz GDDR5
7GHz GDDR5
6GHz GDDR5
7GHz GDDR5
Memory Bus Width
256-bit
256-bit
384-bit
256-bit
VRAM
4GB
4GB
3GB
2GB
FP64
1/32 FP32
1/32 FP32
1/24 FP32
1/24 FP32
TDP
165W
145W
250W
230W
GPU
GM204
GM204
GK110
GK104
Transistor Count
5.2B
5.2B
7.1B
3.5B
Manufacturing Process
TSMC 28nm
TSMC 28nm
TSMC 28nm
TSMC 28nm
Launch Date
09/18/14
09/18/14
05/23/13
05/30/13
Launch Price
$549
$329
$649
$399
Compared to GTX 980 and its full-fledged GM204 GPU, GTX 970 takes a harvested GM204 that drops 3 of the SMMs, reducing its final count to 13 SMMs or 1664 CUDA cores. It also sheds part of a ROP/L2 cache partition while retaining the 256-bit memory bus of its bigger sibling, bringing the ROP count down to 56 ROPs and the L2 cache down to 1.75MB, a configuration option new to Maxwell
Along with the reduction in SMMs clock speed is also reduced slightly for GTX 970. It ships at a base clock speed of 1050MHz and a boost clock speed of 1178MHz. This puts the theoretical performance difference between it and the GTX 980 at about 85% of the ROP performance or about 79% of the shading/texturing/geometry performance. Given that the GTX 970 is unlikely to be ROP bound with so many ROPs, the real world performance difference should much more closely track the 79% value, meaning there is still potentially a significant performance delta between the GTX 980 and GTX 970.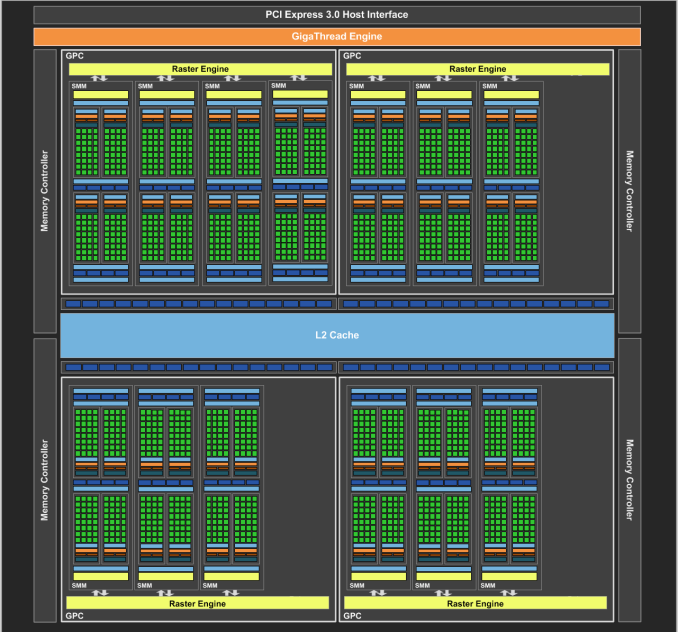 Elsewhere the memory configuration is unchanged from GTX 980. This means we're looking at 4GB of GDDR5 clocked at 7GHz, all on a 256-bit bus. Compared to the GTX 770 that the GTX 970 replaces, this is a welcome and much needed upgrade from what has been the 2GB VRAM standard that NVIDIA has held to for the last two and a half years.
GTX 970's TDP meanwhile is lower than GTX 980's thanks to the reduced clock speeds and SMM count. The stock GTX 970 will be shipping with a TDP of just 145W, some 80W less than GTX 770's official TDP of 225W. NVIDIA's official designs still include 2 6-pin PCIe power sockets despite the fact that the card should technically be able to operate on just one; it is not clear at this time whether this is for overclocking purposes (150W would leave almost no power headroom) or for safety purposes since NVIDIA would be so close to going over PCIe specifications.
Like the GTX 980, NVIDIA's target market for the GTX 970 will be owners of GTX 600/500/400 series cards and their AMD equivalents. GTX 970 is faster than GTX 770 but not immensely so, and as a result NVIDIA does not expect GTX 770 owners to want to upgrade so soon. Meanwhile GTX 670 owners and beyond are looking at 65%+ improved performance for cards at the same tier, while power consumption will remain roughly consistent from the GTX 670's 140W GPU Boost 1.0-based power target.
Furthermore, as we mentioned in our GTX 980 review, GTX 970 has been a pure virtual (no reference card) launch, which means all of NVIDIA's partners are launching their custom cards right out of the gate. A lot of these have been recycled or otherwise only slightly modified GTX 700/600 series designs, owing to the fact that GM204's memory bus has been held at 256-bits and its power requirements are so low.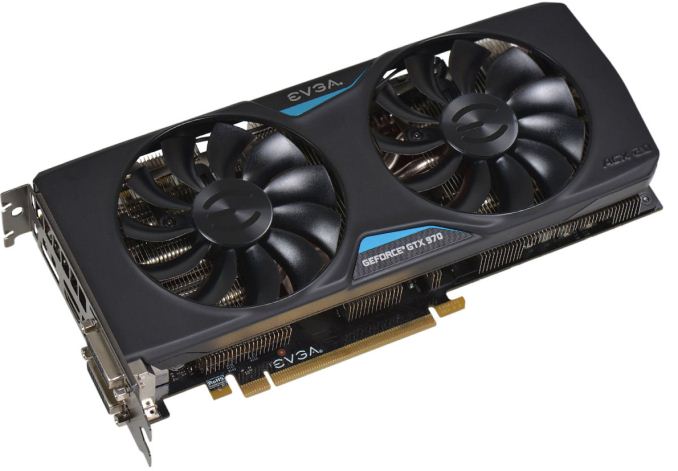 Meanwhile since NVIDIA did not produce reference cards, for GTX 970 reviewers are being sampled directly by NVIDIA's partners. For our review today we will be looking at EVGA's GeForce GTX 970 FTW ACX 2.0, the company's highest performance GTX 970 card. Accordingly, we will be taking a look at both it's out of the box performance and performance when reconfigured as a stock card to showcase both performance profiles.
With the discontinuation of the GTX 780 series and GTX 770, competition for the GTX 970 will be split between the GTX 760 and GTX 980 on the NVIDIA side. On the AMD side things will be even more spread out; AMD's closest cards from a pricing perspective are the R9 280X and R9 290 priced below and above the $329 GTX 970 respectively, but as we'll see even R9 290X is not necessarily out of the picture thanks to GM204's strong performance.
Surprisingly even a week after the launch of the GTX 900 series, AMD has yet to officially respond to the GTX 900 series launch with any further price cuts or additional incentives beyond their existing Never Settle Forever bundle. In lieu of that some retailers have been running their own promotions; our pricing benchmark retailer Newegg has been offering 15% discounts on some of their PowerColor R9 290 series cards, meanwhile some other cards qualify for a $40 Newegg gift card (which cannot be applied retroactively to the purchase). Since the bulk of these cards don't qualify for the price discount we're holding our reference prices at $500 for the R9 290X and $400 for the R9 290, however the very cheapest of these PowerColor cards with the discount in play can go for as little as $450 and $340 respectively.
Meanwhile GTX 900 series sales have been brisk, and while the cards are still in supply not all models are available or are regularly available. At the very least everything from reference clocked cards to significantly overclocked cards are available at Newegg, so there is still a range of options. Though they are coincidentally all EVGA cards as of publication time.