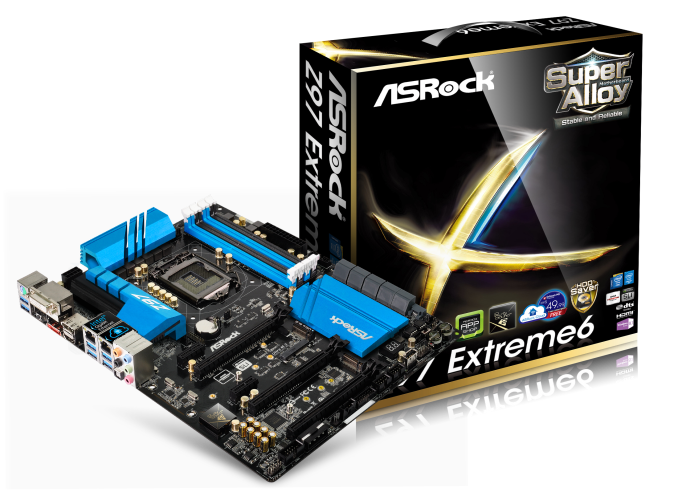 ASRock has a history of bringing new features to motherboards where others can tread conservatively. In recent generations, this means the Extreme11 range with an onboard LSI3008 for SATA ports, or the C2750D4I, an octo-core Atom platform with 64GB DRAM support and 12 SATA ports on a mini-ITX. For the ASRock Z97 Extreme6 we have an M.2 slot that runs at PCIe x4, with lanes taken direct from the CPU. We test the motherboard, the performance of this slot, and the effect of dual-GPU gaming with four CPU PCIe lanes tied up in storage.
ASRock Z97 Extreme6 Overview
The big feature point of the Z97 Extreme6 is the Ultra M.2 port, offering PCIe 3.0 x4 bandwidth direct from the CPU. This technically suggests a theoretical maximum bandwidth of 32 Gbps / 4 GBps, or 3.938 GBps with the 128/130b encoding afforded by PCIe 3.0. Using regular interpolation of storage overhead, this would mean a peak read/write of 3.2 GBps should the drive be sufficient. ASRock was kind to pass on one of the few native PCIe 3.0 x4 drives in OEM circulation, the Samsung XP941 (read Kristian's review here). Using this drive we saw a peak read speed on IOmeter of 1.35 GBps, far from the peak that the slot can handle, but it does certainly give plenty of headroom for future devices and earmarks an important development in NGFF devices. The Z97 Extreme6 also has an M.2 x2 slot from the chipset PCIe 2.0 lanes, on which the same drive achieves a 828 MBps peak sequential.
In order to equip the motherboard with an M.2 x4 port, ASRock had two choices. They could combine four lanes from the chipset/PCH into a single slot, although that would severely limit the number of controllers that could be placed on the motherboard without additional PCIe switches. The other method was in the x8/x4/x4 allocation from the CPU, earmarking the final x4 for the M.2. In this method, installing an M.2 drive in this x4 slot would reduce any chipset overhead, but it would also reduce the other PCIe lanes down to x8/x4. This removes any chance of SLI, but Crossfire can still be used in x8/x4. As part of this review, we tested two 7970s at x8/x4 while the XP941 was installed and saw less than a 1% drop in frame rates for our game tests. This is highly important for a few reasons. It means that any motherboard manufacturer should be able to implement this without impacting the frame rates in reviewer benchmarks. It might also drive NVIDIA to remove the x8 lane restriction on SLI so that users can enjoy dual NVIDIA gaming while using an M.2 drive. It also means that Intel needs to step up the number of PCIe lanes on the mainstream CPUs, to at least 20 if not more. This would allow x8/x8 SLI + x4 for M.2, or x8/x4 with two x4 M.2 slots, or any kind of crazy combination therein. Despite the lack of commercial M.2 x4 drives on the market, the fact that ASRock has pursued this whereas the other major motherboard manufacturers did not should land kudos on ASRock's shoulders.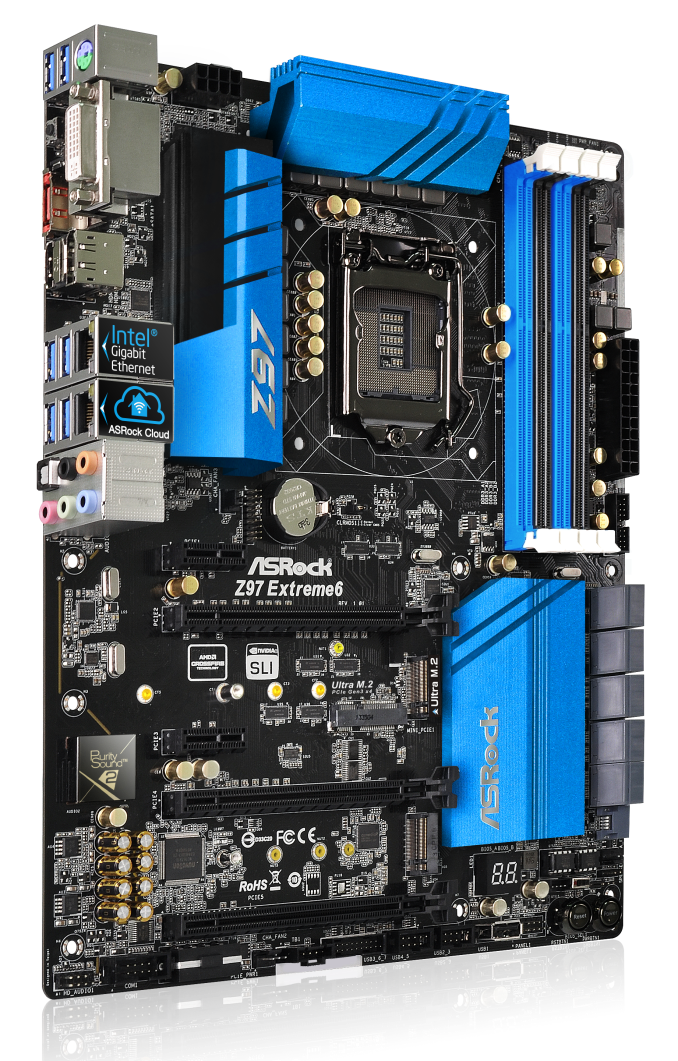 That all being said, the Z97 Extreme6 falls afoul of some of the same routing issues we encountered with Z97-Deluxe. The SATA Express connector shares bandwidth with the two SATA ports associated with it, which is not that odd, but it also shares bandwidth with the M.2 x2 slot. To combat this, ASRock has another 8 SATA 6 Gbps ports, but one of these is shared with the eSATA port on the rear. That leaves seven SATA ports if the rest were used, but making sure the right ones are being used first time requires double checking.
The ASRock Z97 Extreme6 uses a series of hubs and controllers to provide all the ports on board. The USB 3.0 ports are split such that the two headers are from the chipset, four of the rear ports are from an ASM1074 hub, and the final two from an ASM1042e controller to give 10 USB 3.0 in total. There is an ASMedia PCIe Gen 2.0 switch as well, the ASM1184, which use one upstream port for four downstream ports. ASRock has split these ports to provide two of the PCIe 2.0x 1 slots (one of which uses a quick switch to the mini-PCIe) and the four SATA 6 Gbps from ASM1061 controllers.
Aside from the PCIe allocation, the Z97 Extreme6 retains the onboard vertical USB 2.0 port from their high-end Z87 products and implements twin BIOS functionality. Out of the six fan headers on-board, only one is four pin, and the extra power for the PCIe devices comes from a 4-pin molex. Like most other manufacturers, ASRock implements this motherboard with an enhanced Realtek ALC1150 audio system, involving PCB separation, filter capacitors and headphone amplification, dubbed Purity Sound 2. The two network interfaces on board come from the Intel I218-V and a Realtek 8111GR.
On the performance side, the ASRock Z97 Extreme6 smashes the DPC Latency record from our last review, bringing the best latency down to a 39 microsecond peak. While the Windows 7 POST time is poor (almost 20 seconds), when controllers are disabled this time drops to seven seconds only. Power consumption during load was 10-20W higher than some of the other Z97 motherboards we have tested, but the rest of the benchmarks were on the same level. The automatic overclocking options are plentiful from the BIOS and a few to the OS, and manual overclocking gave our i7-4770K CPU a good 4.6 GHz at 1.300 volts before temperatures became the main concern.
The Extreme6 is the cheapest Z97 motherboard we have tested so far, at $170, and is the only motherboard currently on sale with an integrated M.2 x4 slot (the Extreme9 will have one, but is not available yet). So while this offers a good opportunity for ASRock to flex its engineering muscles, the lack of PCIe M.2 drives (either x2 or x4) currently on the market is the biggest drawback.
Visual Inspection
Back in our pre-release Z97 motherboard article, I noted how ASRock's color scheme for their motherboard range has transformed into something more vibrant than before. Unlike other manufacturers which are blending darker or dulled colors, ASRock is hitting the saturation on full. The overclocking range 'OC Formula' is a strong mustard yellow, the gaming 'Fatal1ty' range is a vibrant red and the channel 'extreme' range is the big blue we see below.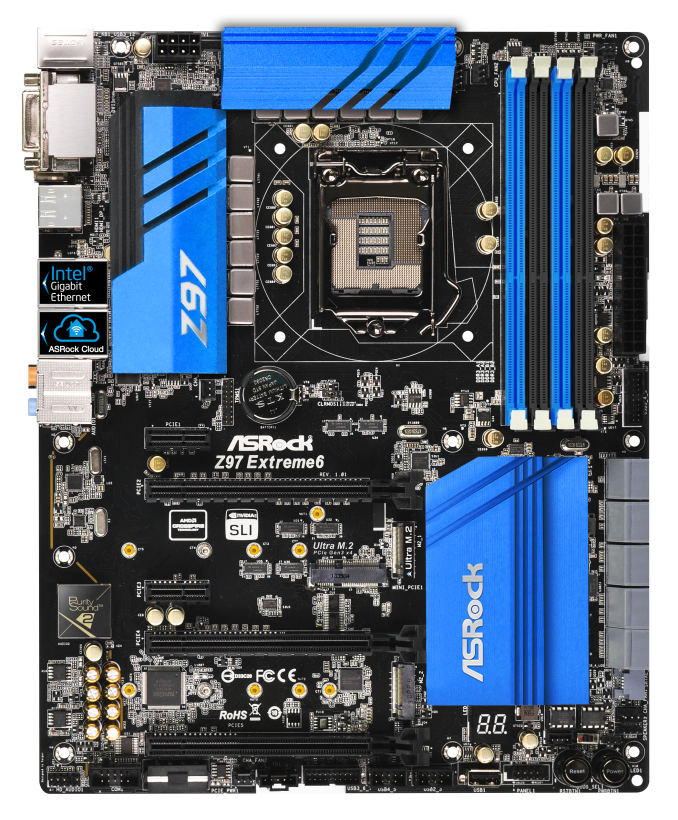 The socket area pushes the chokes outside the Intel specifications, giving slightly more room for larger air coolers. But the DRAM slots are right up against that specification, and as such there might be issues with tall memory modules and large coolers. The socket area has access to four of the six fan headers on board – two CPU headers between the top heatsink and the memory slots, 3-pin PWR header at the top right of the motherboard and a 3-pin CHA header next to the motherboard CR2032 battery. Because this motherboard only has a single 4-pin header, it is perhaps wise to have placed it near the socket, however we should push ASRock to implement a full complement of 4-pin headers.
The DRAM slots next to the socket seem like the slightly thinner versions that are often seen on the cheaper motherboard lines, however they did work fine in our testing. These slots use double-ended latch mechanisms as well.
On the right hand side of the motherboard we have one of the chipset USB 3.0 headers underneath the 24-pin ATX power connector, followed by the mélange of SATA 6 Gbps ports. Despite them all being the same color, the top four ports are the ones from the ASMedia 1061 controllers (via the ASM1184, so they all have the same upstream bandwidth shared with two of the PCIe 2.0 x1 slots) and the bottom six are from the chipset.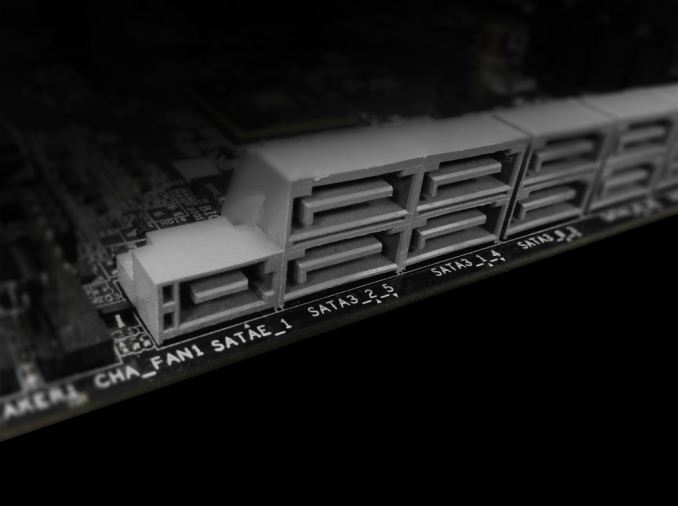 The SATA Express port requires specific spacing between the SATA ports and as such we can see two of the plastic moldings for them bonded together on the motherboard. This is a different application of SATA Express compared to the other motherboards we have reviewed which all use a single combination connector for all concerned. I wonder if that is several cents more expensive than the layout ASRock has managed here. Nevertheless it is worth noting that the SATA Express shares bandwidth with the M.2 x2 slot, meaning that any SATA device connected to SATAe disables M.2 and vice versa. To ensure that a specific device is recognized, it is advised to manually adjust the option in the BIOS.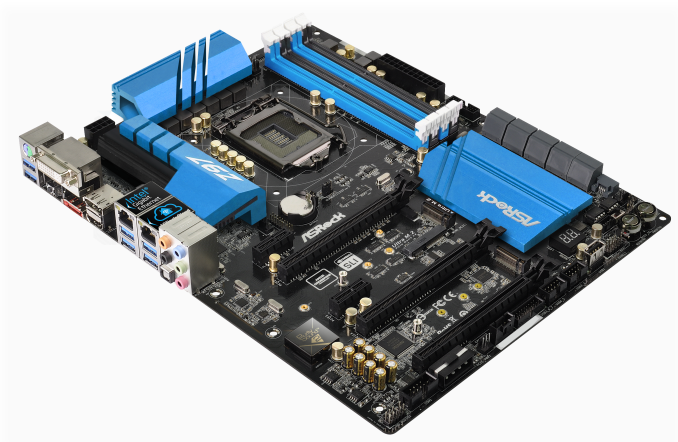 On the bottom right of the board are two removable BIOS chips, a 3-pin fan header, a BIOS selection switch, the power and reset buttons, a two-digit debug, the front panel header, a vertical USB 2.0 and a new feature, the HDD Saver header. HDD Saver is one of those ASRock-specific features new for 9-series, whereby a user can hook up two SATA devices via this header and the included cable and have immediate control of the power of those devices in the OS. In this way a user can disable, in software, their ODD/HDDs in order to save data from outside interference (for example, backups) or save power.
Elsewhere on the rear panel are USB 2.0 headers, the second chipset USB 3.0 header, a Thunderbolt Add-In-Card header, a 3-pin fan header, a COM header and the 4-pin molex power for the PCIe slots. Although I have mentioned this on many other reviews, when it comes to PCIe power, the 4-pin molex connector is a bad connector due to size and the limited use they now have in most PC builds. Most manufacturers have moved onto either SATA power or a 6-pin PCIe for power, but ASRock still insist on a 4-pin molex connection.
The Purity Sound 2 audio subsystem uses a separated PCB and an EMI shield around the Realtek ALC1150 codec. Filter caps and headphone amplifiers are also used.

The rear panel forgoes any USB 2.0 implementation, even though I believe ASRock could have purchased the appropriate connectors to get all the features they wanted in. From left to right is a combination PS/2 port, two USB 3.0 from the ASM1074 hub, a DVI-I, a ClearCMOS button, an eSATA 6 Gbps, DisplayPort, HDMI, an Intel I218-V NIC, two more USB 3.0 from the ASM1074 hub, two USB 3.0 from an ASM1042AE controller, a Realtek 8111GTR NIC and the audio jacks on the end.
Board Features
ASRock Z97 Extreme6
Price
US (Newegg)
Size
ATX
CPU Interface
LGA-1150
Chipset
Intel Z97
Memory Slots
Four DDR3 DIMM slots supporting up to 32 GB
Up to Dual Channel, 1333-3200 MHz
Video Outputs
HDMI (4096x2304 at 24 Hz)
DVI-I (1920x1200 at 60 Hz)
DisplayPort 1.2 (4096x2304 at 24 Hz or 3840x2160 at 60 Hz)
Onboard LAN
Intel I218-V
Realtek RTL8111GR
Onboard Audio
Realtek ALC1150
Expansion Slots
2 x PCIe 3.0 x16 (x16 or x8/x8)
1 x PCIe 2.0 x4 (x2 only)
2 x PCIe 2.0 x1
1 x mini-PCIe (shares bandwidth with PCIE3, an x1 slot)
Onboard SATA/RAID
6 x SATA 6 Gbps (PCH), RAID 0, 1, 5, 10
4 x SATA 6 Gbps (ASM1061) (SATA3_A4 shared with eSATA)
1 x SATA Express (shared with SATA3_4, SATA3_5 and M2_2)
1 x eSATA 6 Gbps (ASM 1061) (Shared with SATA3_A4)
1 x Ultra M.2 x4 (CPU)
1 x M.2 x2 (shared with SATAe, SATA3_4, SATA3_5)
USB 3.0
4 x USB 3.0 (PCH) [2 headers]
2 x USB 3.0 (ASM1042A controller) [2 rear panel]
4 x USB 3.0 (ASM1074 hub) [4 rear panel]
Onboard
10 x SATA 6 Gbps
1 x SATAe
1 x M.2 x4
1 x M.2 x2
2 x USB 3.0 Headers
2 x USB 2.0 Headers
1 x TPM Header
6 x Fan Headers
1 x HDD Saver Header
1 x Thunderbolt AIC Connector
1 x USB 2.0 Vertical Type A
1 x Two-Digit Debig
Power/Reset Swtiches
BIOS Selection Switch
Front Audio Header
Front Panel Header
Power Connectors
1 x 24-pin ATX
1 x 8-pin CPU
1 x 4-pin Molex (for VGA)
Fan Headers
2 x CPU (4-pin, 3-pin)
3 x CHA (3-pin)
1 x PWR (3-pin)
IO Panel
1 x Combination PS/2
1 x Clear_CMOS Button
1 x eSATA 6 Gbps
DVI-I
DisplayPort
HDMI
2 x USB 3.0 (ASM1042AE) on far right
4 x USB 3.0 (ASM1074 hub)
Intel I218-V gigabit Ethernet on left
Realtek RTL8111GTR gigabit Ethernet on right
Audio Jacks
Warranty Period
3 Years
Product Page
Link
As mentioned in my previous Z97 reviews, with the demands on PCIe lanes from the chipset being stretched thinner with the new M.2 and SATAe requirements, I predicted we would be seeing more USB 3.0 hubs in use to ease that burden. The big plus in ASRock's favor is the PCIe 3.0 x4 M.2 port, which can be used in 2-way Crossfire. Unfortunately due to NVIDIA restrictions, the x4 M.2 cannot be used with SLI, but the x2 M.2 can be. I could imagine ASRock placing two of these x4 M.2 slots onto the rear of a mini-ITX motherboard, and giving the main PCIe slot only x8 lanes (our tests later in the review show our gaming results with little difference between PCIe 3.0 x8 and x16).