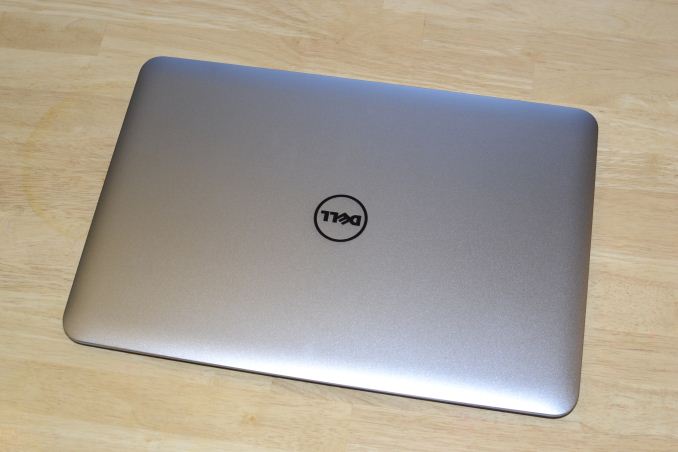 Last year one of the better Windows laptops I encountered, at least based on the core appearance and design, was the Dell XPS 15 (Ivy Bridge Edition). It was basically Dell's third attempt at making a MacBook Pro (more or less) – the first two attempts being the Arrandale XPS 15 (with the Sandy Bridge model using the same design), then there was the XPS 15z that used dual-core Sandy Bridge in a slimmer form factor, and then the retooled XPS 15. Today we have the fourth generation XPS 15, which has taken many of the design elements of the IVB XPS 15 but hopefully fixes the cooling/throttling, adds a Haswell CPU and an updated 700M NVIDIA GPU, ditches the optical drive, and on the higher-end SKUs you get an ultra-high resolution 3200x1800 display. The display is actually both good and bad, but I'll get to that later. Let's start with the core specifications for the high-end model, which is what I received for review.
Dell XPS 15 (9530) Specifications
Processor
Intel Core i7-4702MQ
(Quad-core 2.2-3.2GHz, 6MB L3, 22nm, 37W)
Chipset
HM87
Memory
2x8GB DDR3-1600
Graphics
GeForce GT 750M 2GB GDDR5
(384 cores, 967MHz + Boost 2.0, 5GHz GDDR5)

Intel HD Graphics 4600
(20 EUs at 400-1150MHz)
Display
15.6" Glossy PPS 16:9 QHD+ (3200x1800)
(Sharp LQ156Z1 Touchscreen)
Storage
512GB mSATA SSD (Samsung SM841)
Optical Drive
N/A
Networking
802.11ac WiFi (Intel Dual-Band AC-7260)
(2x2:2 867Mbps capable)
Bluetooth 4.0 (Intel)
Audio
Realtek HD
Stereo Speakers
Headset jack
Battery/Power
9-cell, 11.1V, 8000mAh, 91Wh
130W Max AC Adapter
Front Side
N/A
Left Side
Battery Charge Indicator LEDs
Headset jack
2 x USB 3.0
1 x Mini-DisplayPort
1 x HDMI
AC Power Connection
Right Side
Flash Reader (MMC/SD)
1 x USB 3.0
1 x USB 3.0 (Sleep Charging)
Kensington Lock
Back Side
Exhaust vent (inside LCD hinge)
Operating System
Windows 8.1 64-bit
Dimensions
14.6" x 10.0" x 0.3-0.7" (WxDxH)
(372mm x 254mm x 8-18mm)
Weight
4.44 lbs (2.01kg)
Extras
720p HD Webcam
87-Key Backlit Keyboard
Pricing
$2300 as configured
$1500, $1750, and $1950 alternatives
As is often the case, the new XPS 15 with Haswell is both better and worse than Apple's latest MacBook Pro Retina – and that's just looking at the paper specifications. The display is higher resolution than the Retina, with a 3200x1800 panel compared to Apple's 2880x1800 resolution display. Apple has been one of the few companies to continue to buck the trend towards 16:9 aspect ratio displays, sticking with a 16:10 AR – a choice I wholeheartedly approve of. The 3200x1800 panel is the 16:9 alternative to the rMBP 15's panel, and while Dell technically has more pixels, I still would prefer the "taller" screen that Apple uses. (We'll also need to look at color accuracy, but that we'll get to that later in the review.)
The display is actually one of the few areas where Dell comes out ahead, however. In most other areas, the laptops are either equal or Apple maintains their lead. For example, Apple is now using PCIe based SSDs while Dell is using a Samsung SM841 SSD mSATA drive – it's not that the SM841 is slow, but the PCIe SSDs are certainly faster. For the CPU, Apple has elected to use Intel's latest Crystalwell chips with Iris Pro Graphics (i7-4750HQ and i7-4850HQ) while Dell is opting for the 37W quad-core i7-4702HQ. It's not a huge difference in performance – the maximum CPU clock is 3.5GHz on the 4850HQ compared to 3.2GHz on the 4702HQ and 4750HQ – but Apple still comes out ahead thanks to the "L4 cache" (eDRAM). On the GPU front, both systems use NVIDIA's GT 750M GDDR5 chip, so the difference in iGPU performance is largely superfluous. Interestingly, it appears the main reason for the difference in CPUs (other than Dell not being interested in Crystalwell) is TDP, and in fact the base clock of the 4702HQ is actually slightly higher than the base clock of the 4750HQ.
Worth mention is that there are three different models of the new XPS 15 available right now. The base model XPS 15 comes with a 1920x1080 touchscreen display (it's not clear if this is a TN panel or not), 500GB HDD with 32GB SSD cache, dual-core i5-4200H CPU, 8GB RAM, integrated HD 4400 Graphics, and a 61Wh battery for $1500 (or a 3-year warranty for $1750). Stepping up to the $1950 XPS 15 will get you the quad-core i7-4702HQ CPU, 3200x1800 PPS (similar to IPS) touchscreen, 16GB RAM, GT 750M GDDR5 GPU, a 1TB HDD with 32GB SSD cache, and a 61Wh battery. And then there's the big kahuna that we're reviewing, which is mostly the same as the $1950 model but it dumps HDD storage completely in favor of a 512GB mSATA SSD and adds a larger 91Wh battery in place of the 2.5" drive. $400 extra for a 512GB Samsung SM841 is actually a pretty reasonable expense, considering retail pricing on that SSD is typically well over $500, making the added battery capacity a bonus. Of course Dell isn't paying retail prices, and drives like the Crucial M500 480GB mSATA can be had for $320 online, but even then the $400 upgrade price is still reasonable.
The components aren't the only change with this model. The design language of the latest XPS 12 and XPS 13 carries over now as well, with carbon fiber being used on the bottom casing of the chassis. Perhaps more noteworthy is that Dell has ditched the optical drive this time around, and on the highest end model they also skip out on conventional storage. Both changes make room for additional battery capacity, where the model we're reviewing comes with a 91Wh battery. Dell also manages to stuff all of these updates into a thinner and lighter chassis – the new model we have weighs 4.44 lbs. (2.01kg) while the previous generation weighed 5.79 lbs. (2.6kg), and this generation is 0.7" (18mm) thick compared to 0.91" (23.2mm) previously.
Of course, besides the core hardware and other design elements, the big question people undoubtedly have is going to be thermals. Dell let me know that thanks to our investigation of the thermal throttling on the earlier IVB XPS 15, they went back and redesigned the cooling. Like the rMBP 15 and a few other laptops, Dell is now using a dual cooling solution for the CPU and GPU with two fans (the removal of the optical drive makes way for the second fan). I've run through our benchmark suite, and I'll discuss later the question of throttling and whether or not that's a concern. Using some pathological workloads and stressing both the CPU and GPU (e.g. Cinebench on seven of the eight CPU cores and a GPU load like 3DMark), it's definitely possible to exceed the thermal design of the XPS 15 and end up with lower clocks, but there's more to it than that. How much of a concern this is can largely be answered by the question, "Do you play modern PC games?"
Not surprisingly, the host of changes listed above makes for a much more interesting laptop, but one that can end up costing a fair amount of money. Given that only the top model sports pure SSD storage, that's the one we need to compare with Apple's rMBP 15, and it mostly ends up a wash. You can get the Dell for $2300, as mentioned already. The rMBP 15 with 512GB SSD on the other hand will set you back $2600. Apple gives you a faster SSD (PCIe based), a faster CPU (i7-4850HQ), and Thunderbolt 2, which makes the extra $300 acceptable. (Other options for right around the same price are available, for example this one gets the i7-4950HQ CPU but uses Iris Pro Graphics and only comes with 8GB RAM.) Dell's model has a larger battery (but likely less battery life if we compare Windows 8.1 with OS X Mavericks), a touchscreen, and a higher resolution display. Ultimately, it's likely going to be more a question of whether you're interested in running OS X or Windows 8.1.
I do have to say that I also miss the ability to custom configure Dell's laptops, and perhaps that's just the way things will be with systems like this that target style more than pure performance. I'd love to have the option to configure the storage, display, CPU, RAM, battery, and GPU options rather than choosing between one of three pre-configured models but that's just not in the cards right now. Anyway, with the overview of the core components out of the way, let's find out how the XPS 15 performs, what's it like using a high-DPI display in Windows 8.1, and how the laptop fares in everyday use.