Along with today's MacBook Air and Mac mini updates, Apple has also updated their 27" Cinema Display. The display now goes by a new name: the Apple Thunderbolt Display (ATD). As the name implies, the display now features Intel's new Thunderbolt interface, which Apple has heavily adopted in all new 2011 Macs. The ATD is world's first commercially available Thunderbolt display and the second Thunderbolt device, the first one being Promise's Pegasus enclosure.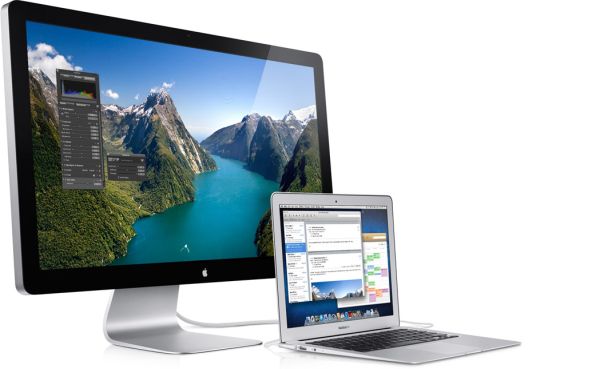 Lets go through the specifications now:
Apple Thunderbolt Display Specifications
Screen size
27"
Resolution
2560x1440
Panel type
In-plane switching (IPS)
Brightness
375 cd/m2
Viewing angles
178°/178°
Contrast ratio
1000:1
Response time
12ms
Cables (built-in)
Thunderbolt, MagSafe
Ports
3x USB 2.0, FireWire 800, Gigabit Ethernet, Thunderbolt
Video and audio
FaceTime HD camera with mic, 2.1 speaker system
Dimensions (WxDxH)
25.7" x 8.15" x 19.35"
Weight
23.5lb
Price
$999
Essentially, the ATD is just a 27" Cinema Display with Thunderbolt. The screen size is the same, the resolution is the same, and I wouldn't be surprised if the panel was exactly the same as well. From outside, you can't see any difference, sans the extra ports. The dimensions are a match. Even the price stays at $999.
The difference comes when we talk about Thunderbolt and what it brings. The Cinema Display had three cables: Mini DisplayPort, MagSafe (power) and USB 2.0. Thanks to Thunderbolt, mDP and USB 2.0 have been merged into one and there are now only two cables: MagSafe and Thunderbolt.
Laptop-as-a-desktop users rejoice, the Thunderbolt Display features FireWire 800, USB 2.0 and Gigabit Ethernet - all of which are carried over the single Thunderbolt cable. There is also a second Thunderbolt port for daisy-chaining. As Thunderbolt provides up to 10Gb/s per channel, it's more than adequate for 2560x1440 display and an external RAID box as we mentioned in our Promise Pegasus R6 & Mac Thunderbolt Review.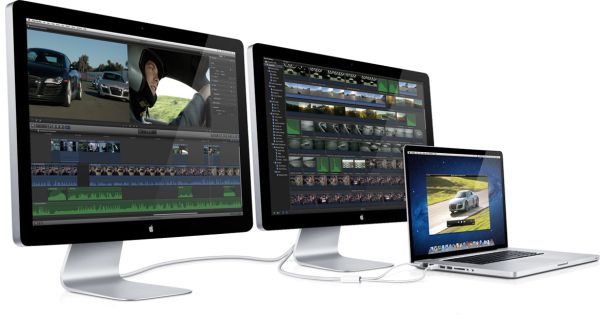 Example of daisy-chaning
Apple's Thunderbolt Display really shows us the potential of Thunderbolt by integrating many different interface standards into a single cable. Honestly the only thing that's missing is audio-out on the Thunderbolt Display itself for users who prefer external speakers.
The biggest, and possibly the only, issue here is USB 2.0 - it feels so outdated considering that nearly all PCs have USB 3.0 now. We probably won't see USB 3.0 support from Apple until Ivy Bridge brings it natively in 2012. However, even with only USB 2.0, the ATD is a great option for the owners of 2011 Macs with Thunderbolt. Apple will continue to sell the existing 27-inch Cinema Display as the new Thunderbolt Display will not work with machines that don't support Thunderbolt.
The Apple Thunderbolt Display is available from Apple's Online Store with an estimated shipping time of 6-8 weeks.