AMD Upgraded HTPC Nettop
Our final nettop build is the AMD HTPC setup, which adds quite a few extra features into the mix. We've also upgraded the case to a more expensive option, so you can easily skip that if you prefer to keep costs down. Starting with the motherboard and APU, once again we're using the AMD E-350, but this time we've selected the ASUS E35M1-I Deluxe. This is the most feature-rich Zacate mini-ITX board currently available.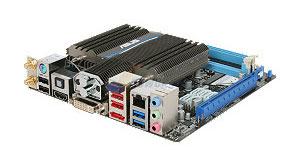 It features USB3 ports, an eSATA port, onboard wireless-N networking, DVI and HDMI ports, and an S/PDIF out jack. It's also passively cooled by a massive heatsink, so it generates no fan noise. Unfortunately, all those extra features bump the price of the motherboard + APU up to $204, nearly $100 more than the ASRock E-350 board! We've used the same 4GB memory kit as the Intel system on the previous page, though E-350 is fast enough that the extra memory might prove more useful.
The case is another area where we've spent a large chunk of the budget. Lian Li builds beautiful cases, and the PC-Q09B is no exception. It's well built and durable, but it's also quite expensive. This specific case is attractive because it includes an external power brick, excellent ventilation, an anti-vibration kit for the hard drive, and comes with a slim optical drive adapter if you want to include a slim optical drive. We'll be using a Blu-ray drive, so that's a nice extra. Unlike the Antec cases, the Lian Li only supports a single 2.5" storage drive.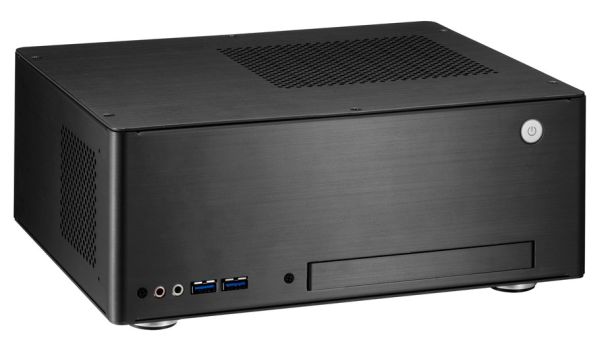 Since we're building an HTPC, capacity wins out over performance this time, and we've selected the Samsung SpinPoint MT2 1TB drive. You can rip and save hundreds of hours of video to the drive, and this AMD solution has more than sufficient muscle to play all of your HD videos smoothly, so why not? Note that this is a non-standard 2.5" disk that's 12.5mm thick, so it won't fit in many laptops, but it works fine in mini-ITX cases. It was on sale at Newegg for just $80 a couple weeks ago, but now the cheapest price we can find is $94. If you're willing to sacrifice capacity for speed, the largest 7200RPM 2.5" hard drives weigh in at 750GB, and you can currently find the Seagate ST9750420AS on sale for $90. Rounding out the package, we've again got the Sony BD-ROM and CyberLink PowerDVD Ultra adding $190 to the total cost.
This is obviously not a nettop designed around keeping costs down, but it's more a statement of style and added features. At a total price of $778, many of you are probably already laughing, but keep in mind all the features you're getting. This system provides plenty of storage and near-silent operation, two key elements of a good HTPC. If you want to go with the same case and components as the ION setup, you can get the cost down to $674, or you can skip WiFi and USB3 and just use the ASRock E-350 board. Then you're looking at $580, or $390 without Blu-ray support—except we've already covered that option.