AMD Zacate Budget Nettop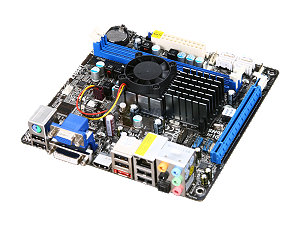 Next up is our AMD variant of the budget nettop. We'll start with the motherboard and CPU (APU) choice, the ASRock E350M1. AMD's new Fusion APUs (Accelerated Processing Units) combine a dual-core CPU and DX11 graphics onto a single die. AMD refers to this as the E-350 for the dual-core model, and they call the GPU the HD 6310. We've already provided ample coverage of AMD's new platform, and overall Brazos/Zacate is a much more pleasing solution than Intel's Atom—or even NVIDIA's ION. Really, there's not much reason to go with the Intel Atom/ION systems in this guide over this budget AMD nettop unless you can find an Atom board on clearance somewhere. This ASRock board features an eSATA port, as well as VGA, DVI, and HDMI ports. It also uses regular desktop memory so make sure you get the correct type of RAM. We've selected a Patriot 2GB DDR3-1333 module, as 2GB is sufficient to run Aero and moderately multitask.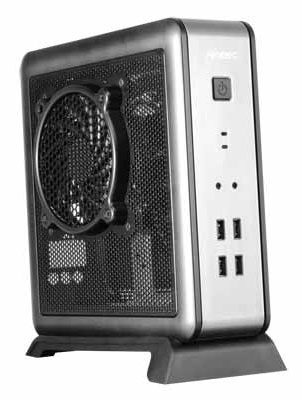 You could easily keep the same case, HDD, and DVDRW as the Intel system, but we've mixed things up a bit to provide some other options. This time, we're going with the Antec ISK 100, which is my favorite mini-ITX enclosure. It includes a silent, high-efficiency 90W external power brick, a quiet but effective 100mm fan, four front USB2 ports, and space for two 2.5" hard drives mounted below the motherboard. Assembly is time-consuming, but the finished product is worth the effort in my opinion. Note that it does not have space for an optical drive, though you can always go the external drive route.
For storage, we've selected a Seagate Momentus 500GB 7200RPM drive. This is a drive that we've seen in dozens of laptops over the past year, and while performance is nothing like an SSD it will still get the job done. Unlike 3.5" drives, pricing is quite a bit higher, and the minimum ~$40 drives are usually 160GB 5400RPM models (or $45 for a 250GB drive). The choice of case thus ends up increasing the cost of storage, but we're willing to make the trade in the name of style. You can choose a less expensive drive if you're looking to cut costs, or perhaps if you want an optimal configuration you could buy a 60GB SSD for the OS and apps and add in a larger 5400RPM drive for mass storage, but that definitely wouldn't be "budget" by any stretch.
With the selected components, the total system cost comes to $365, so for the added performance and flexibility over the Atom configuration you're paying $37. If you use the same case and storage options as the Atom setup, the total drops to $355, making the difference just $27. This particular system is also slightly cheaper than the base mobo + CPU we'll use in the higher-end Intel Atom + ION system, though the other component choices will bump the upgraded system cost up quite a bit. Considering that E-350 is a superior platform overall, the added price relative to stock Atom is worthwhile unless you're sure you don't care about Flash video support and other graphically intensive content. We'd prefer to give up hard drive space to afford the extra $27 relative to the base Intel setup, though.