One Final Option and Closing Thoughts
Nettops can be an appealing solution for many computer users. For some, a nettop could very well be their sole desktop computer, but for others they're only powerful enough for kitchen duty, serving up MP3s and recipes. We've given four different builds as starting points, but there are plenty of other alternatives. We mentioned power as one of the benefits of Atom and Brazos platforms, but the truth is you can get pretty low power requirements even with desktop CPUs these days. To be honest, many of us couldn't be happy with an Atom setup for a lot of use cases, and even ION can't mitigate the CPU bottleneck. Brazos may be twice as fast as Atom but it's not the perfect CPU/APU for all users—though Llano should fill in some of the chinks in the AMD's armor. In the meantime, as a final idea let's put together a higher performance mini-ITX system using a Sandy Bridge processor.
We put together an HTPC-style setup similar to the Atom and Brazos builds, with the necessary parts to work together. Our core components now include the motherboard and a separate CPU, and we selected the ASRock H67M-ITX board and one of the cheapest 2nd Generation Core i3 processors. While we could have gone for the i3-2100 clocked at 3.1GHz with dual-cores and Hyper-Threading, we instead chose the lower power i3-2100T that runs at 2.5GHz. Either can frankly run circles around the fastest of the other CPUs we've looked at, and while 35W is twice the TDP of the E-350, idle and lower load power shouldn't be too much more. The motherboard includes VGA, HDMI 1.4a, and DVI outputs, along with two USB3 ports, four USB2 ports, one eSATA port, S/PDIF, and five audio jacks. You pretty much have everything you need for a decent HTPC or even a desktop, with the only shortcoming being the lack of gaming potential (and there's still the 23.976FPS issue).
The one thing you need to account for is the CPU and its larger cooler, so now we have a fifth case option. This case is decidedly bigger than the other cases because it needs to be—especially if you go with a standard SNB processor instead of a low power option. An Atom or Brazos chip under full load might put out 15-20W of heat, but a Core i3 running at 3.1GHz is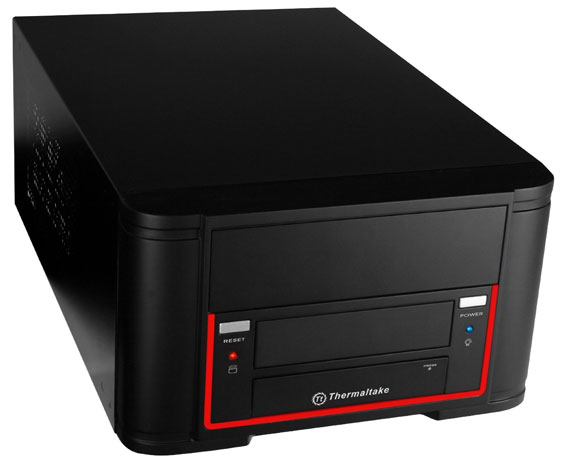 going to dissipate up to 65W, and even the i3-2100T will put out 35W. To accommodate the CPU cooler, the case is just over 5" tall (compared to 4" or less on the other builds). The i3-2100T comes with a low profile cooler, but things get very cramped in mini-ITX in a hurry, so if you want a different CPU you'll want to investigate alternative HSFs. The case also comes with a 5.25" external drive bay, one external 3.5" bay, and one internal 3.5" bay. That means we'll have yet another alternative for the optical drive and hard drive.
The Thermaltake Element case comes with a 200W PSU, but it's not a high-quality energy efficient PSU. You should probably swap it out with something better, but finding a good quality SFX PSU can be a bit difficult. We've selected the FSP FSP300-60GHS, which is 80 Plus certified and only costs $37. A 300W power supply is more than you need, but unfortunately finding even a vanilla 80 Plus SFX PSU is difficult. If you want to go all out on the PSU, Silverstone's ST45SF is 80 Plus Bronze certified, but if 300W was more than you need the 450W Silverstone is positively overkill—and it costs $80. Even though we're not comfortable with the stock PSU, you can always use it short term and hope for the best, but we'd suggest looking for better alternatives if possible.
For storage, this time we can get a 1TB 7200RPM drive in the Samsung SpinPoint F3 for just $55. We also went with Samsung for the BD-ROM combo drive, and since it's a full 5.25" drive instead of a slim model it only costs $65 and included CD/DVD recording capabilities. The Samsung drive includes an OEM copy of PowerDVD 9, which is sufficient for basic Blu-ray playback, but often the bundled versions lack support for 5.1 audio decoding and will down-mix to 2.1—thus we're back to including the $100 PowerDVD Ultra.
The final price for this setup comes out to $640 for this particular build, but you can easily get under $500 (e.g. by dropping Blu-ray). So you get much higher performance and more storage for only $50/$60 more than the ION/E-350 configurations. It will also use about twice as much power (perhaps more), it's almost twice the size (thanks to the case), and it won't be silent. Still, it's hard to argue against the performance boost if you're looking for a PC that can do more than just basic computing. Another alternative is to just forget about desktops altogether and buy a laptop—these days, it won't cost much more for a laptop that adds a display, speakers, keyboard and trackpad yet still has HDMI support, and laptops are usually more optimized for low power consumption than even nettops.
For an inexpensive mini-ITX nettop, AMD's E-350 provides a very good starting point. Once you move up to the $500+ range, you should consider the many alternatives. Everything involves compromise of some form—you can go small, quiet, and inexpensive but somewhat slow, or opt for faster performance but a larger, noisier, and/or more expensive PC. And that's just looking purely at mini-ITX builds; as our last budget guide shows, it's entirely possible to put together a mid-tower desktop for under $500 if you're not set on a tiny form factor.
Whichever way you go, you can do a lot of interesting stuff for less than $500. Perhaps most importantly, energy isn't getting any cheaper. If energy conservation matters to you (or your friends or clients), the low-power Atom/E-350 builds outlined in this guide are compelling choices. Some people might make good use of the latest quad-core and hex-core uber-chips, but there's a large percentage of people that can be perfectly happy using a modern nettop.