Super Talent DDR2-800 5-5-4
Many readers have been asking about low-priced DDR2-800 in recent weeks. As prices escalated in the past several months the search for value DDR2 became an economic necessity, but now that prices have moderated the bigger question is whether value DDR2 can deliver the performance many buyers are looking for, and save $100, $200 or even more to be used for a better video card or a faster CPU? To better answer that question Super Talent, a manufacturer of enthusiast memory, supplied a typical value part rated at DDR2-800.
Super Talent has several DDR2-800 rated parts, and they decided to provide their lowest priced DDR2-800 rated at 5-5-4 timings. With a price of just over $200, this Super Talent DDR2-800 certainly qualifies as a value 2GB kit. 2GB should be a good match for the soon-to-be-released Vista operating system, but if price is a huge concern in the system build, this Super Talent memory is also available as a 1GB kit with a pair of 512MB DIMMs.
This range of prices and configurations should certainly qualify the Super Talent DDR2-800 5-5-4 kits as a value product in any current memory comparison. With a rating of DDR2-800 the kits compete with lower rated 2GB kits at about the same price. However, the question still remains whether a step down to DDR2-800 will save a few bucks while delivering performance about as good as the top DDR2 memory.
Super Talent DDR2-800 Specifications
Super Talent was all but invisible in the desktop memory market until Joe James moved from marketing at Corsair to Super Talent. Since that time Super Talent has been pushing for visibility in the enthusiast desktop memory market, and the brand is appearing at a number of online etailers. A quick look at their website will show the heavy emphasis on flash products, which is why you may not have heard of Super Talent until recently. Still, the company has been making memory products for about 20 years, and the Super Talent design center is located in San Jose, California.
In our last
review of Super Talent memory
we complained about the amateurish packaging of Super Talent. It is clear that Super Talent is paying attention since the new packaging is greatly improved.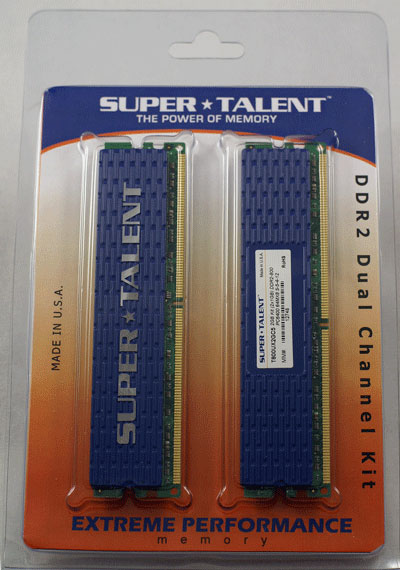 The crude packaging is gone and has been replaced by new designs with strong corporate identity. You can also see the attractive new heat spreaders that coordinate with the package theme. These are all clear indications that Super Talent is serious about competing in the desktop memory market.
The
T800UX2GC5
is a DDR2-800 2GB kit supplied with attractive blue heatspreaders. This is a value product rated at DDR2-800 and 5-5-4 timings. The matched pair of 1GB DIMMs sell in the low $200 range, but they are still identified on the ST website as a member of the overclocking series. Super Talent also offers another 2GB DDR2-800 kit rated at 4-4-3-8 timings at a price just below $300 (even less with the current rebate). The DDR2-800 5-5-4 and DDR2-800 4-4-3 DIMMs are both supplied as either 512MB or 1GB DIMMs, and as single DIMMs or two DIMM kits (2x512MB or 2x1GB).
We do not know which memory chips are used in building the Super Talent tested in this review. Performance suggests it is not Micron D9 chips or even Elpida memory chips. The memory is specified at the fairly slow 5-5-4 timings you expect to see in value DDR2-800.
Super Talent T800UX2GC5 Memory Specifications
Number of DIMMs & Banks
2 DS
DIMM Size
1GB
Total Memory
2 GB
Rated Timings
5-5-4-12 at DDR2-800
Rated Voltage
1.8V
As you will see later in the review, Super Talent managed to handily outperform the rated memory specifications with just a modest increase in memory voltage.