A Closer Look
Mushkin ships this product in a simple, plastic clamshell package, which you can see in the image below.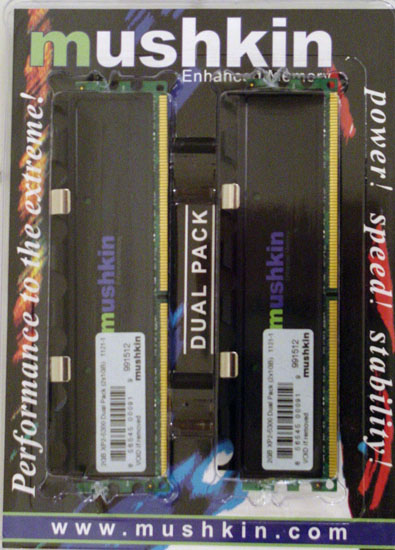 Once the package is opened from the 3 plastic dimples located on the top and side, you can see the information card plus the actual memory modules. The stark black aluminum heat spreaders are quite attractive and the Mushkin name is certainly hard to miss.
Should you ever have any type of warranty or RMA claim, you will need the product information card, as Mushkin requires all the original packaging for returns.

A closer view of the memory modules shows a sparse product information label, with no timing information provided. This particular review sample was labeled correctly as part number 991512, in a 2 GB dual pack.

Looking down at the new heat spreader, you can easily see the scalloped open design at the top of each module – allowing for much better airflow with the top of the heat spreader extended upwards, as seen in the image below.

From a top to bottom aspect, we can take another look at the module design and come to our own conclusions.

Finally, let us examine in detail how the module appears when flash is used to expose more detail in the image below. You will note the thermal tape that is being used by Mushkin in this newer heat spreader design and the overall open design of the actual heat spreader itself.