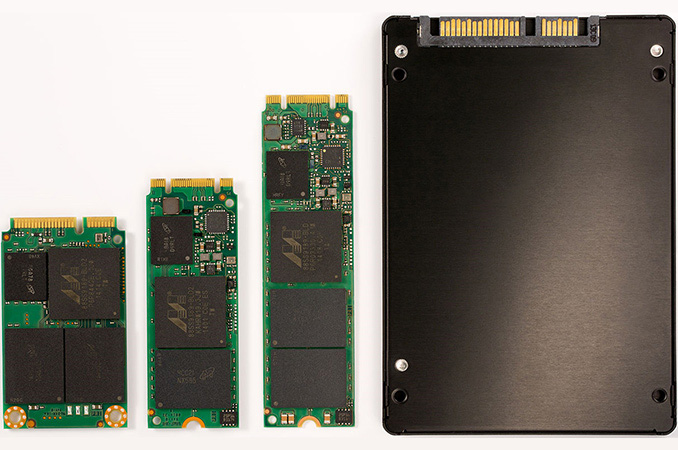 Softened demand for PCs and smartphones coupled with NAND memory bits oversupply has sent prices of 3D NAND memory into a dive in recent quarters. In Q4, global NAND flash revenue dropped staggering 45% year-over-year and 25% quarter-over quarter, according to recent data by TrendForce. And while that dive appears to be leveling off some – TrendForces' analysts forecast that NAND prices declined more modestly in Q1 – it's still bringing NAND to its lowest per-bit costs ever. All of which has meant that SSD prices for end users have been taking a much-welcomed dive, as the core costs of building SSDs continue to decline.
NAND memory manufacturers earned $10.287 billion in Q4 2022, down 25% sequentially and 45% year-over-year. Average selling price (ASP) of NAND memory decreased by 22.8% sequentially as makers of flash tried to dispose of memory devices they had produced. Meanwhile, PC, smartphone, and server vendors were hesitant to purchase more 3D NAND than absolutely necessary, as they were unsure about future demand and feared overstocking.
Samsung Remains on Top of NAND Market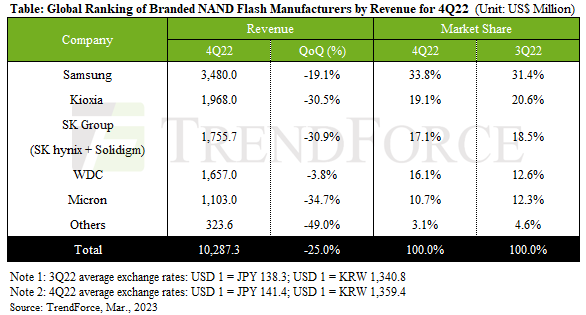 Samsung retained its top spot with $3.48 billion in NAND sales (down 19.1% QoQ and 43% YoY) and a 33.8% market share. Despite declining ASP, Samsung has managed to increase its total bit shipments by leveraging its cost advantage and focusing on high-capacity products. Furthermore, the company has not announced any plans to reduce its 3D NAND bit output so far, unlike all of its industry peers, including South Korea-based SK Group.
Kioxia earned $1.968 billion on 3D NAND (down 30.5% QoQ and 44.5% YoY) and commanded 19.1% of the market. Kioxia sells both raw NAND memory as well as datacenter SSDs, so soft demand from PC and smartphone customers and as well as inventory adjustments by server makers spiraled the company's revenue.
NAND sales of SK Group (which owns SK Hynix and controls Solidigm) reached $1.7557 billion in Q4 (down 30.9% QoQ and 51.4% YoY) and the company was the third largest supplier of flash memory with a 17.1% share. TrendForce says that while SK Group's NAND earnings declined, the company increased its flash memory bit shipments by 6.7% QoQ as shipments of 3D NAND for consumer electronics as well as sales of enterprise SSDs increased.
Western Digital, which controlled 16.1% of NAND sales in the fourth quarter, sold $1.657 billion worth of NAND memory, a slight 3.8% drop sequentially and a 46.8% lower than in the same quarter a year ago. But those slight drops of revenue were a result of a massive 20% increase in bit shipments, something that clearly had an effect of the company's ASP in Q4.
Micron's sales of NAND flash totaled $1.103 billion in Q4 2022 (down 34.7% QoQ and 41.3% YoY) and controlled 10.7% of the market. Micron was the first company to announce plans to cut its 3D NAND bits output late last year. Nonetheless, Micron initiated shipments of its client SSDs based on 232-layer 3D NAND in Q4 2022, according to TrendForce. Furthermore, as Micron ramps up production of enterprise-grade drives featuring 176-layer 3D QLC NAND, TrendForce projects that Micron's bit shipments will gradually improve in 2023, resulting in a steady increase in revenue quarter by quarter.
SSD Prices Reach New Lows
Samsung not only controls a third of NAND flash memory market, but it also sells some of the industry's most popular SSDs. Seven out of 10 bestselling SSDs at Amazon carry Samsung's badge. Meanwhile retail prices of popular SSDs from of all vendors typically followed trends set by prices of 3D NAND flash. To get a better look at the change in SSD prices over the last few months, we pulled some data from Amazon tracker CamelCamelCamel to see where prices stand since the start of Q4'22: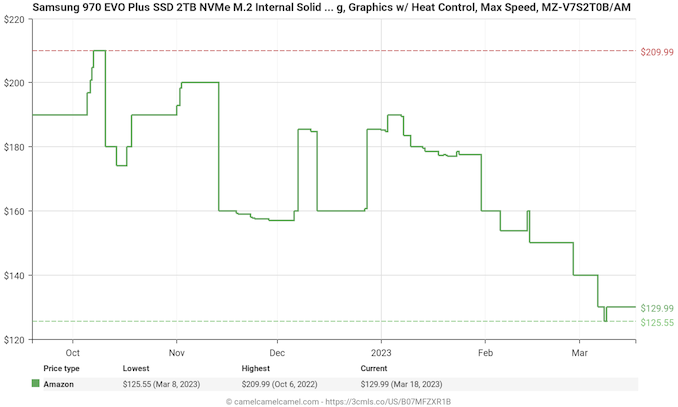 NAND Prices to Drop Further
TrendForce believes that NAND flash revenue and ASP decreased further in Q1 2022 due to traditionally low demand during this period. As announced, Kioxia, Micron, Western Digital, and SK Hynix are expected to continue reducing their production in the first quarter to address their overstock situation, though it is unclear how this will affect their bit shipments, as the companies tend to produce memory using their latest production nodes. Yet, lower output will likely reduce ASPs by 10% - 15% QoQ in the first quarter, according to TrendForce.
As a result, TrendForce forecasts an 8.1% decline in NAND flash revenue in Q1 2023. Meanwhile, a quick check of retail SSD prices at Amazon demonstrate that they are getting cheaper, making the current NAND price bust a win for PC parts buyers.
Sources: TrendForce, Amazon, CamelCamelCamel