Earlier this month,
we rounded up twenty USB flash drives
and pitted them against each other in our first comparison of portable flash media.  The results were surprising. We found that while many drives offered competitive read performance, the vast majority of them performed absolutely abysmally when it came to write performance. 
All flash drives are not created equal, however, and we noted that many drives made use of premium controllers that resulted in not only high read speeds, but very high write speeds as well. 
At the end of the day, Kingston and Lexar both walked away with an Editor's Choice award for absolutely stellar performance among the competition.  Kingston's DataTraveler Elite and Lexar's JumpDrive Lightning both offered some of the fastest read speeds and consistently high write speeds as well, while the competition generally stumbled in one or both categories. 
Unfortunately, despite the fact that the winners were clear, they were also the most expensive drives out of the roundup.  At 512MB, the Kingston DataTraveler Elite was only around $10 more expensive than the next class of USB drives, but at 1GB, that gap jumped to at least $20.  The award winners were also some of the bulkiest drives out there, so although they offered the best performance, they did have some noticeable drawbacks. 
The very day that our first USB flash drive roundup was complete, Lexar released a new version of one of their USB flash drives, the JumpDrive Secure.  Its successor, called the JumpDrive Secure II, promised better performance, a smaller form factor and, as its name implies, improved security software. 
One of our biggest complaints in the first roundup was that while some drives offered added security through drive encryption, not a single one of the drives supported anything other than Windows XP when using their security software.  Lexar has now addressed that complaint as the JumpDrive Secure II's encryption software now supports both Windows XP and OS X. 
So today, we add to our growing database of USB flash drive devices with Lexar's JumpDrive Secure II.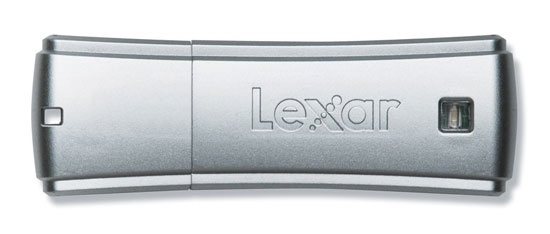 Before proceeding with this review, we highly recommend at least reading the first few pages of our initial
USB Flash Drive Roundup
in order to get acquainted with what makes these drives tick and how we test them. 
 Lexar JumpDrive Secure II
Sizes Available
256MB - 2GB
Lanyard Included
No
USB Extension Cable Included
No
Data Encryption
Yes (Windows & OS X only)
Password Protection
Yes (Windows & OS X only)
Secure + Public Partitions Simultaneously Accessible
Yes
Warranty
2 years