Hot Test Results
Main Output
Load (Watts)
100.85 W
251.53 W
374.45 W
497.73 W
Load (Percent)
20.17%
50.31%
74.89%
99.55%
Amperes
Volts
Amperes
Volts
Amperes
Volts
Amperes
Volts
3.3 V
1.24
3.36
3.09
3.34
4.64
3.32
6.19
3.3
5 V
1.5
5.1
3.76
5.07
5.64
5.02
7.51
5
12 V
7.37
12.08
18.42
12.06
27.63
11.97
36.83
11.94
Line
Regulation
(20% to 100% load)
Voltage Ripple (mV)
20% Load
50% Load
75% Load
100% Load
CL1
12V
CL2
3.3V + 5V
3.3V
2%
14
20
20
28
16
34
5V
1.8%
16
22
26
34
20
40
12V
1.2%
20
24
28
60
52
38
As can be seen in the preceding tables, the power quality of the SilverStone FX500 is good. The maximum voltage ripple on the 12V line is 60 mV, a figure that most high-end PSU admittedly surpass nowadays, but it's still exactly half of the ATX design guide's recommended 120 mV limit. Ripple on the secondary 3.3V/5V lines is equally mediocre, reaching 34 mV on the 5V line with a recommended maximum at 50 mV. Voltage regulation is good, at just 1.2% for the main 12V line and about 2% for the secondary 3.3V/5V lines.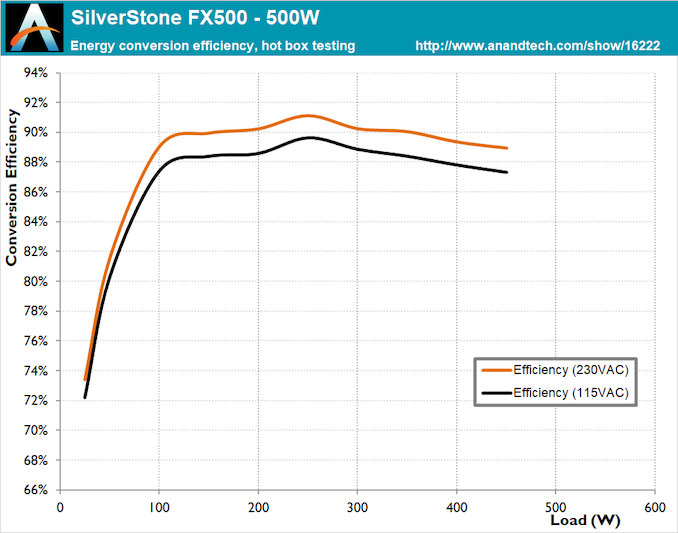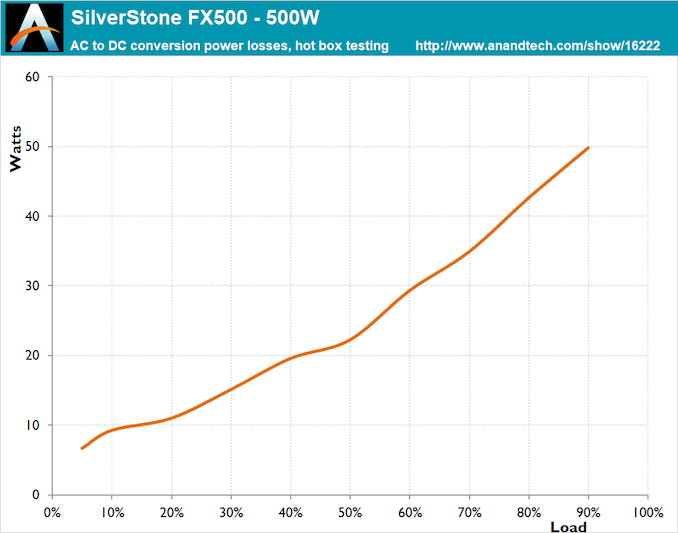 Operation in high ambient temperatures greatly affects the performance of the tiny FX500. First and foremost, the PSU was unable to output all of its rated power output under these operating conditions, shutting down some minutes after the load was set at 500 Watts due to overheating. Taking the reduced nominal load range of between 20% and 90% into account, the average efficiency drops by 0.6% regardless of the input voltage, going down to an average of 89.9% (230 VAC) / 88.4% (115 VAC), figures that initially seem comparatively good but are deceptive due to the missing 100% load measurement.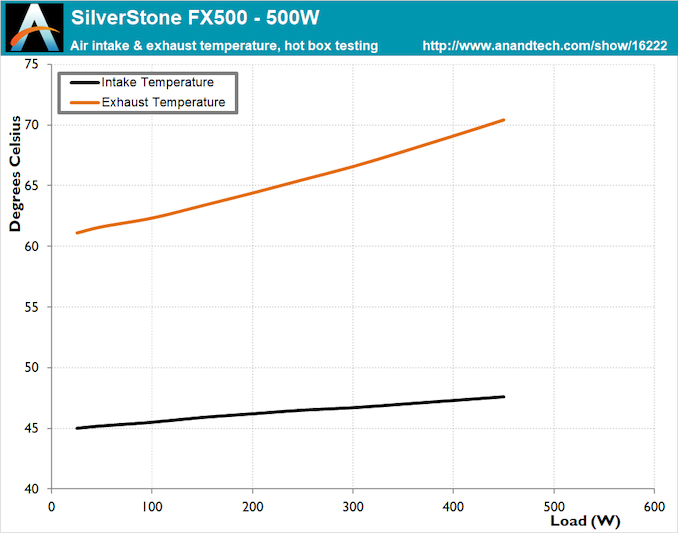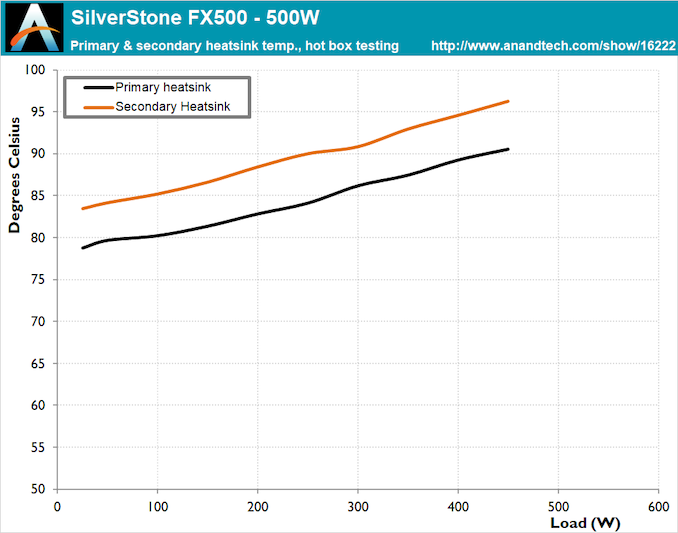 As it can be derived from the charts below, the cooling capabilities of the SilverStone FX500 are unable to cope with the very adverse ambient conditions inside our hotbox. Although it operated normally at 100% for several minutes, it eventually shut down to protect itself. Given that our testing temperatures are higher than the 40°C that this unit is rated for, the FX500 held fairly well considering its small size. The real weakness here is that the small cooling fan is operating at maximum speed practically all the time. With noise figures constantly above 50 dB(A), the FX500 will be unbearably loud for home users under such operating conditions.