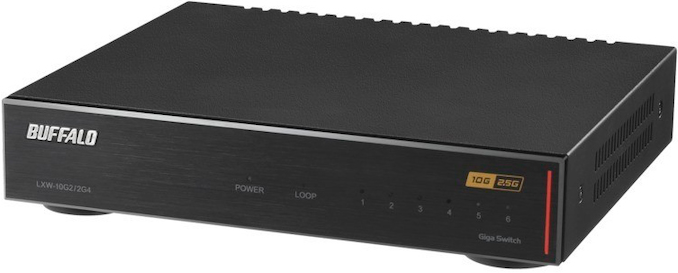 One of the big reasons for why faster-than-GbE networks have not gained traction in the consumer space is due to a lack of appropriate network switches. 10 GbE switches are generally aimed at businesses, and they are priced accordingly. Fortunately, the situation is beginning to change. Buffalo Japan has introduced its new six-port switch featuring two 10 GbE ports and four 2.5 GbE ports that is designed for home use.
Buffalo's LXW-10G2/2G4 Giga Switch is aimed at homes with a high-speed optical Internet connectivity as well as multiple computers or NAS with 2.5 GbE or 10 GbE network adapters and/or Gigabit-class Wi-Fi. The switch can automatically prioritize 10 GbE connectivity and also supports loop detection to optimize a network's configuration and performance. Besides the switch, Buffalo also offers its WXR-5950AX12 10G Wi-Fi router as well as LUA-U3-A2G 2.5 GbE USB adapter for PCs.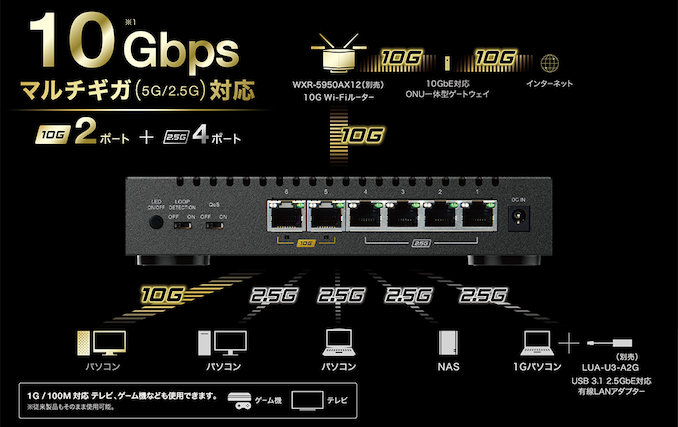 Buffalo's LXW-10G2/2G4 switch will be available starting from mid-December exclusively in Japan, but nothing stops the company to start sales of the product elsewhere. The price of the switch will be approximately ¥34,000 including taxes ($312 with VAT, $283 w/o VAT), which is quite expensive even by Japanese standards. Though at least for the time being, it's a rather unique offering in the consumer switch space; similar switches with a mix of ports have generally combined 10 GbE with pure GbE, so the use of 2.5 GbE ports makes for an interesting development.
Related Reading:
Source: Buffalo Japan (via PC Watch, Hermitage Akihabara)