CPU and Motherboard Recommendations
CPU: AMD Athlon XP 2000+ OEM (no heatsink)
Motherboard: ASUS A7N8X-X (nForce2 400)
Price: CPU - $49 shipped (OEM). Motherboard - $69 shipped
UPDATED March 18th, 2004
. After a month, the Athlon XP 2000+ has come down in price so much that it is now selling for exactly as much as the 1800+ we recommended 4 weeks ago. The 2000+ is identical to the 1800+ in every aspect save for its clock speed; 1.67GHz instead of 1.53GHz. As we mentioned before, this CPU offers excellent performance in today's business applications and games while being very light on the wallet. $49 is a steal and will satisfy even the cheapest of cheap systems. There aren't many 2000+ processors available in retail, but any old CPU cooler will do. We suggest the Cooler Master DP5-5G11A, which is just $10 shipped from several online vendors, if you like a cheap, but effective, cooling solution. If you're looking for something more quiet, we suggest mounting a Panaflo L1A fan to reduce noise.
For more information on exactly how your 2000+ might perform, you can check out AnandTech's very own
Budget CPU Shootout from last December
. Keep in mind that the 2000+ isn't listed in our benchmark charts there, but you can still get a very good idea of how it performs by looking at how its close brothers perform in comparison to the competition.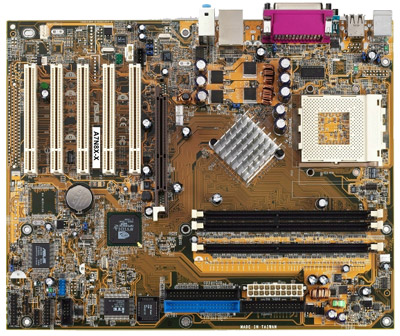 The A7N8X-X was our recommendation 4 weeks ago and continues to be our recommendation today. Not much has changed in the last month, so this is a predictable pick. Still, we'd like to reiterate a few things that we talked about before, namely the reliability, features and excellent price that this motherboard offers. The performance that the nForce2 400 chipset brings is an especially nice bonus considering the price tag, as this is basically the exact same chipset that you'll find in high end Socket A motherboards save for dual channel DDR support. We've had lots of personal experience with this particular ASUS model and simply put, we love this motherboard to death. You can't go wrong with an entry level motherboard like this one.
Listed below is part of our RealTime pricing engine, which lists the lowest prices available on the AMD CPUs and motherboards from many different reputable vendors:
If you cannot find the lowest prices on the products that we've recommended on this page, it's because we don't list some of them in our RealTime pricing engine. Until we do, we suggest that you do an independent search online at the various vendors' web sites. Just pick and choose where you want to buy your products by looking for a vendor located under the "Vendor" heading.