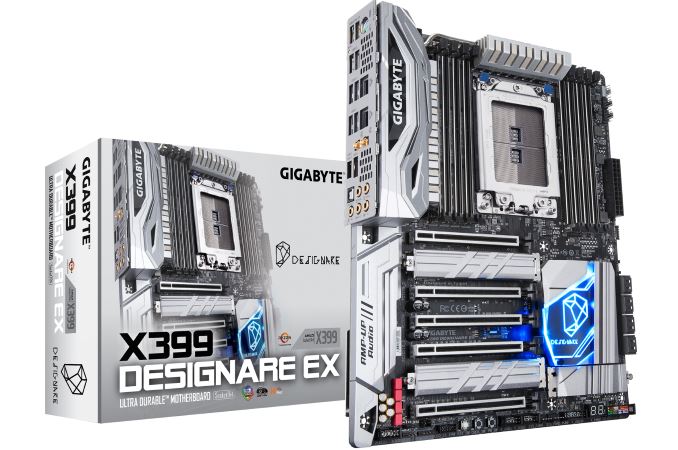 GIGABYTE has another motherboard coming out supporting AMD's Threadripper CPUs, the X399 Designare EX. The Designare EX is slated to be their flagship motherboard for the X399 chipset and includes additional features over the AORUS Gaming 7, bringing dual Intel NICs (over a Killer NIC), Intel WiFi, Thunderbolt 3 add-in card support, and an integrated backplate for increased structural rigidity and aesthetics. This board fills out GIGABYTE's short X399, with the AORUS Gaming 7 a bit further down the line. In the past, we have seen Gaming 3, and Gaming 5 versions so there is still room for something a bit less expensive in the GIGABYTE lineup in the future.
Read our AMD Threadripper X399 Motherboard Overview: All the X399 Motherboards here.
One of the first things one may notice on this board is lack of RGB LEDs compared with the AORUS Gaming 7. On the Gaming 7, where RGB LEDs are just about everywhere, the Designare EX on the other hand only has a few under the PCH heatsink. Aside from that, design aesthetics are remarkably similar, with only the color scheme changed from black colored heatsinks and shrouds (with the AORUS name) to all silver, and the GIGABYTE name on the shrouds instead. The PCH heatsink is the same shape with a different accent plate for the Designare, marking a not to GIGABYTE's aimed market for this product: design professionals. Also included is an integrated I/O shield giving it a more high-end feel.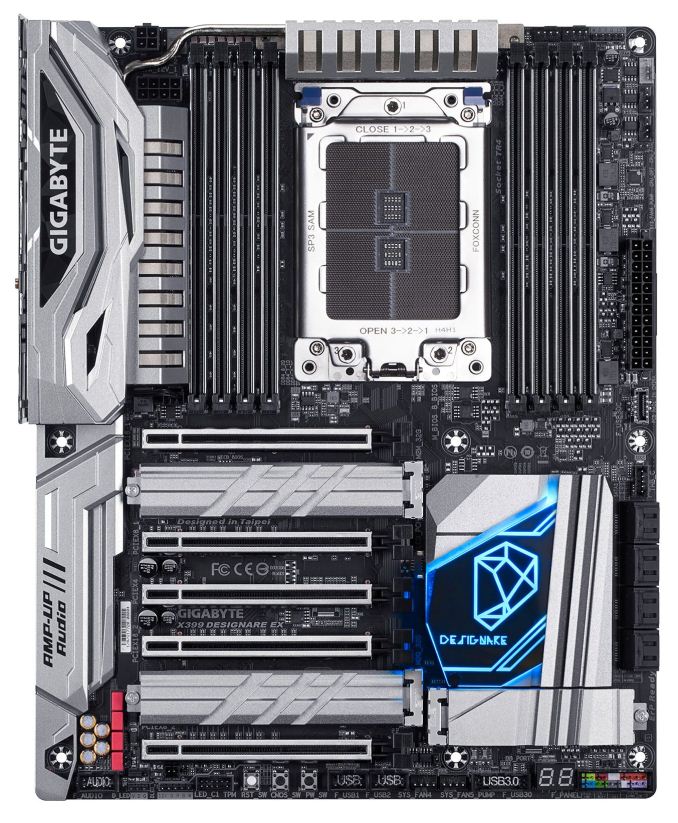 Outside of what has been listed above, the specifications for the Designare are very similar to the Gaming 7, as it uses the same base PCB. Keeping on the platform trend, the Designare EX supports quad channel memory at two DIMMs per channel, for eight total supporting up to 128GB. What looks like an 8-phase VRM uses the same style main heatsink connected to a secondary heatsink via a heatpipe located behind the rear I/O. Being the same PCB, the power delivery is also listed as 'server class' like the Gaming 7, using fourth generation International Rectifier (IR) PWM controllers and third generation PowIRstage chokes. EPS power is found in its normal location in the top left corner of the board, with one 8-pin and one 4-pin.
In the top right corner of the board are five 4-pin fan headers along with an RGBW header for LEDs. Two other RGB headers are found across the bottom of the board, including another RGBW header. USB connectivity uses an onboard USB 3.1 (10Gbps) header from the chipset close to the eight SATA ports. There is a USB 3.0 header on the bottom of the board, two USB 2.0 headers near the power buttons, and a TPM header at the bottom of the board.
Like the AORUS Gaming 7, the Designare EX supports three M.2 drives. The two locations between the PCIe slots support up to 110mm long drives, while the third below the PCH heatsink can fit up to 80mm drives. All locations come with additional heatsinks to keep the drives underneath cool. The Designare EX uses the three M.2 slots instead of a separate U.2 connector. For other storage, GIGABYTE has equipped the board with eight SATA ports. The 5-pin Thunderbolt 3 header, required for add-in Thunderbolt 3 cards and unique for X399 to this specific GIGABYTE X399 board, is located just above the SATA ports. We are asking GIGABYTE if they plan to bundle a Thunderbolt 3 add-in card with this model, and are awaiting a response.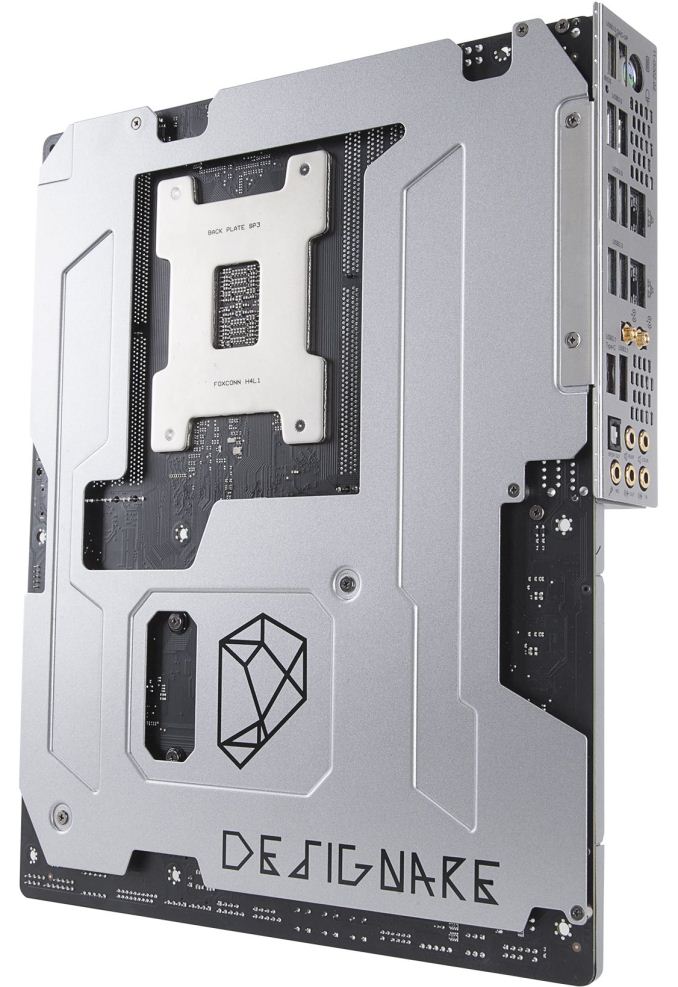 The rear of the motherboard, like some other designs on the market, uses a rear backplate to assist with motherboard rigidity. The thinking here is that these motherboards are often used in systems with multiple heavy graphics cards or PCIe coprocessors, such that if a motherboard screw is incorrectly tightened, the motherboard might be required to take the load and eventually warp. With the back-plate in place, this is designed to distribute that potential extra torque throughout the PCB, minimising any negative effects.
The PCIe slots are the same as the Gaming 7 also, with four of the five sourcing its lanes directly from the CPU. The slots used for GPUs are double-spaced and support an x16/x8/x16/x8 arrangement. The middle slot supports PCIe 3.0 x4 connection fed from the chipset. The middle slot can be used for additional add-in cards, such as a Thunderbolt 3 card.
Next to the PCIe slots is GIGABYTE's audio solution, using a Realtek ALC1220 codec and using an EMI shield, PCB separation for the digital and analog audio signals, filter caps (both WIMA and Nichicon), and has headphone hack detection. GIGABYTE also uses DAC-UP, which delivers a more consistent USB power supply for USB connected audio devices.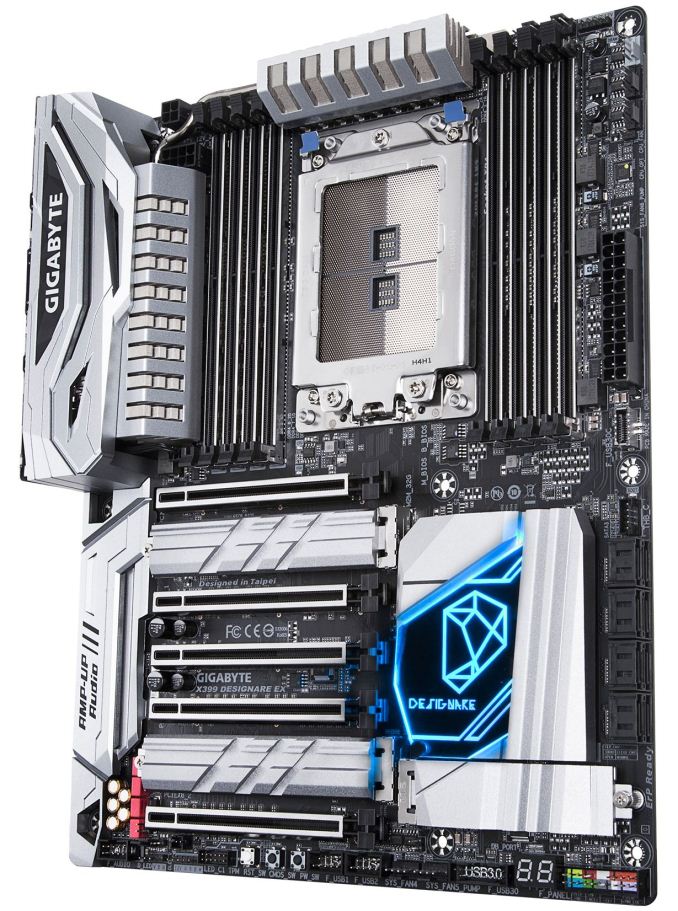 Rear IO connectivity on the Designare EX is also like the AORUS Gaming 7. The only difference will be the additional Ethernet port as this model uses dual Intel NICs. Because of the USB 3.0 support from the CPU, the rear IO has eight USB ports, in yellow, blue, and white. There are also two USB 3.1 (10 Gbps) ports from the chipset, one USB Type-C. Network connectivity differs here with the Designare EX using two Intel NICs (we imagine some mixture of I219V or I211AT) and does away with the Rivet Networks Killer E2500 found on its little brother. Last, are a set of audio jacks including SPDIF.

Pricing was not listed, however, if it is slated to be the flagship of the X399 lineup, pricing is expected to be a higher than the already released X399 AORUS Gaming 7 at $389.99 on Amazon. GIGABYTE says the Designare EX will be available come Mid-October.
GIGABYTE X399 Designare EX
Warranty Period
3 Years
Product Page
N/A
Price
TBD
Size
ATX
CPU Interface
TR4
Chipset
AMD X399
Memory Slots (DDR4)
Eight DDR4
Supporting 128GB
Quad Channel
Support DDR4 3600+
Support for ECC UDIMM (in non-ECC mode)
Network Connectivity
2 x Intel LAN
1 x Intel 2x2 802.11ac
Onboard Audio
Realtek ALC1220
PCIe Slots for Graphics
(from CPU)
2 x PCIe 3.0 x16 slots @ x16
2 x PCIe 3.0 x16 slots @ x8
PCIe Slots for Other
(from Chipset)
1 x PCIe 2.0 x16 slots @ x4
Onboard SATA
8 x Supporting RAID 0/1/10
Onboard SATA Express
None
Onboard M.2
3 x PCIe 3.0 x4 - NVMe or SATA
Onboard U.2
None
USB 3.1
1 x Type-C (ASMedia)
1 x Type-A (ASMedia)
USB 3.0
8 x Back Panel
1 x Header
USB 2.0
2 x Headers
Power Connectors
1 x 24-pin EATX
1 x 8-pin ATX 12V
1 x 4-pin ATX 12V
Fan Headers
1 x CPU
1 x Watercooling CPU
4 x System Fan headers
2 x System Fan/ Water Pump headers
IO Panel
1 x PS.2 keyboard/mouse port
1 x USB 3.1 Type-C
1 x USB 3.1 Type-A
8 x USB 3.0
2 x RJ-45 LAN Port
1 x Optical S/PDIF out
5 x Audio Jacks
Antenna connectors
Related Reading
Additional News 9/20
After speaking with GIGABYTE, it seems that Thunderbolt 3 support will perhaps still be in limbo:
Thunderbolt 3 certification requires a few things from the CPU side like graphical output which we haven't been able to do. We expect this will be developed upon through Raven Ridge and possibly get more groundwork down to activate TB3 on the X399 Designare EX.
The header will remain, though TB3 use / full TB3 enablement will be at a later date. It seems like GIGABYTE has taken note that users are interested in TB3 on AMD.
Source: GIGABYTE