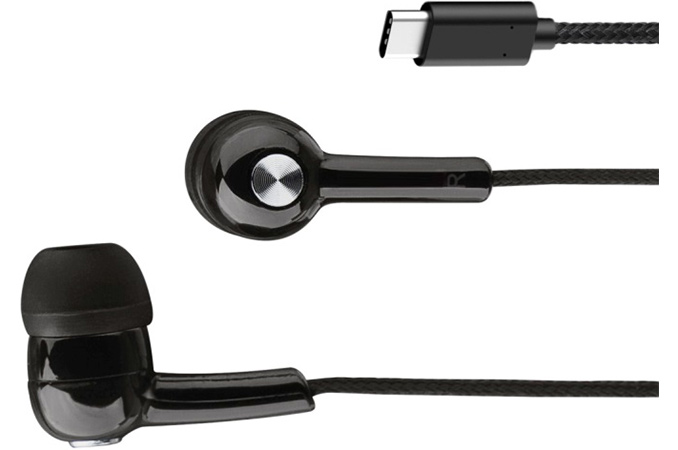 Conexant on Wednesday introduced its third CODEC for upcoming digital headsets using a USB Type-C interface. The new CX20888 chip is specifically tailored for headsets and supports a variety of advanced features, such as a headphone amplifier, active noise cancellation, sampling rates up to 96 kHz and so on. The company unveiled the product at the Mobile World Congress Shanghai in a bid to attract the attention of Chinese makers of consumer electronics.
The Conexant CX20888 is built around an ARM Cortex-M0 controller core (clocked at 50 MHz) and is equipped with two 32-bit Conexant DSPs (both clocked at 100 MHz) with floating point assist—bringing the total compute power of the DSPs to 400 MIPS—as well as 504 KB of SRAM that's shared between the M0 core and the DSPs. The CODEC also incorporates a variety of interfaces for peripherals, including two I2C master (or master + slave) interfaces, one I2S interface, one SPI, two multi-rate timers, a self wake-up timer, four monitor ADCs (to enable volume control, temperature sensor and battery monitor), two stereo PDM digital microphone interfaces, S/PDIF input and up to 28 GPIO pins.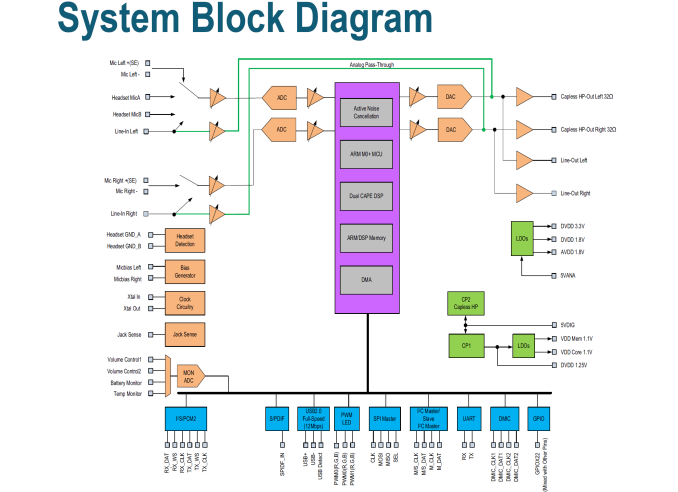 Conexant utilizes the processing capabilities, as well as rich I/O features of the CX20888, to enable such functionality as low-latency active noise cancellation (eliminating up to 30 dB of external sound with a range of up to 3.8 kHz), acoustic echo canceling, equalization, microphone automatic gain control, volume control and others. The chip also supports a wake-on-voice trigger, which is important for enablement of services like Cortana that can listen to what is happening in its surroundings while the OS is in sleep mode.
To enable high-quality audio output, the CX20888 contains one 24-bit stereo ADC (97 dB dynamic range) and one 24-bit stereo DAC (104 dB dynamic range), supporting sampling rates between 8 kHz and 96 kHz. In addition, the chip incorporates a class-H headphone amplifier as well as programmable microphone preamplifiers with dedicated bias to prevent crosstalk. Because power circuitry is important for audio devices, the CX20888 has an integrated DC-DC converter with power switches and dynamic voltage scaling to ensure quality of output while keeping power consumption under control.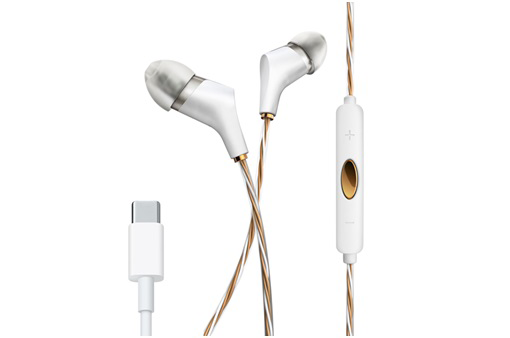 Like other USB-C Digital Audio solutions announced so far, the CX20888 supports USB 2.0 bandwidth, which should be plenty for audio and smart functionality. It also auto switches between CTIA and OMTP headsets if used inside a docking station.
Conexant tells us that the CX20888 is the industry's only single-chip solution with such feature-set, which is suitable for digital USB-C headsets. The company naturally does not reveal the exact price of its solution, but claims that the chip reduces BOM costs of headsets because of its high level of integration. As for form factor, the CX20888 comes in 5×5×0.5 mm 81-pin BGA package and is small enough for a variety of designs.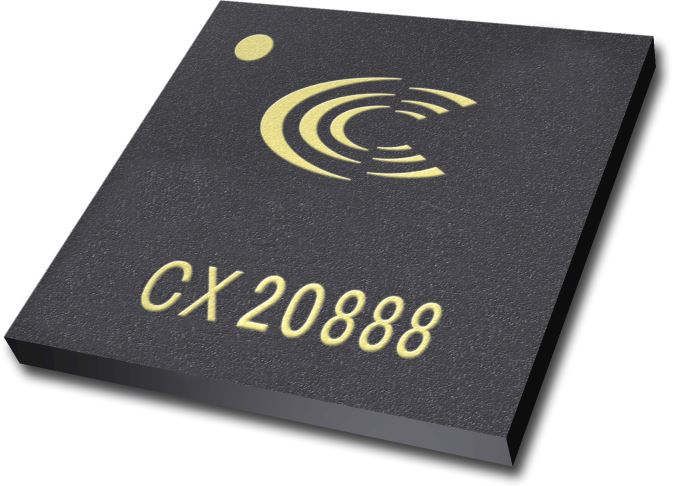 Intel made a number of proposals for its part in the USB-C Digital Audio specification earlier this year and Conexant expects billions of people to adopt headsets and smartphones with a USB-C interface in the coming years (to support the transition of audio devices to USB-C, Conexant introduced two appropriate codecs earlier this year). The new interface is projected to improve the quality of headsets and expand their functionality by adding features, such as temperature sensors or noise cancellation technologies, but these depend entirely on decisions of actual hardware makers and not the standard itself. On paper USB-C Digital Audio enables a lot, but we will have to wait and see how it takes shape.
Source: Conexant