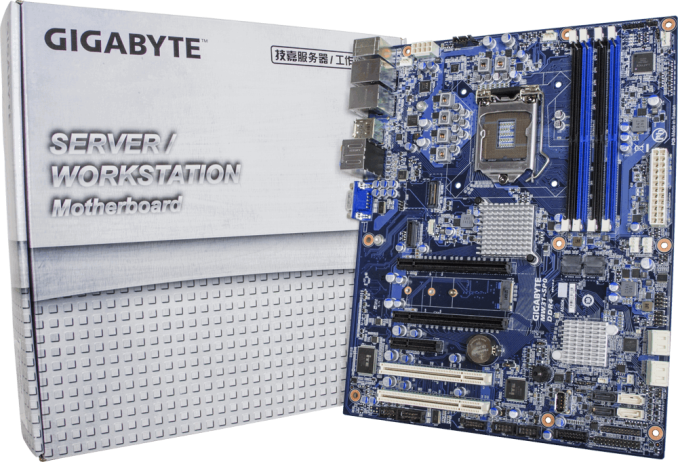 When we learned that Intel would be restricting Skylake based Xeon E3 CPUs to motherboards using server chipsets only, there was a small outcry from a community that has routinely picked the E3 processors over the consumer counterparts. This is because server chipset based motherboards come with very specialized feature sets, are not concerned with looks or things such as bundles or software packages, and are often limited in XMP support. A few motherboard manufacturers have released server motherboards in the consumer style to fill the gap, but first up we wanted to look at one of the 'typical' server products before hitting the new hybrids. This review focuses on the MW31-SP0, a GIGABYTE Server motherboard using the C232 chipset.
Other AnandTech Reviews for Intel's 6th Generation CPUs and Compatible Motherboards
Skylake-K Review: Core i7-6700K and Core i5-6600K - CPU Review
Comparison between the i7-6700K and i7-2600K in Bench - CPU Comparison
Overclocking Performance Mini-Test to 4.8 GHz - Overclocking
Skylake Architecture Analysis - Microarchitecture
Z170 Chipset Analysis and 55+ Motherboards - Motherboard Overview
Discrete Graphics: An Update for Z170 Motherboards - PCIe Firmware Update
Price Check: Intel Skylake i7-6700K and i5-6600K – Latest Skylake Price Check (3/29)
100-Series and C232/C236 Motherboard Reviews:
Prices Correct at time of each review
($500) The GIGABYTE Z170X-Gaming G1 Review
($500) The ASUS Maximus VIII Extreme Review
($370) The GIGABYTE MW31-SP0 Review (this review)
($250) The ASUS Maximus VIII Impact Review
($240) The ASRock Z170 Extreme7+ Review
($230) The MSI Z170 Gaming M7 Review
($208) The GIGABYTE Z170-UD5 TH Review
($165) The ASUS Z170-A Review
($130) The MSI Z170A SLI PLUS Review
($125) The Supermicro C7H170-M Review
To read specifically about the Z170 chip/platform and the specifications therein, our deep dive into what it is can be found at this link.
Server Chipsets for Skylake E3 Xeons: C232 and C236
From a PC-under-the-desk perspective, for several generations Intel has run consumer and server grade chipsets for mainstream processors side by side. Most motherboard manufacturers use a mix of both sets, saving the server grade ones for their B2B sales when dealing with large clients, and offering a few models to individuals that wanted to use both a Xeon processor with ECC memory and required additional support such as IPMI control via an additional network port or an onboard 2D graphics accelerator for quick access. We have reviewed a couple of these over the years, but ultimately they filled that sales niche that required business contracts and overriding stability for mission critical systems. Up until Skylake however, both the consumer and server grade chipset motherboards could use either consumer or server grade processors interchangeably.
This has changed with Skylake. The new Skylake Xeon E3-1200 v5 processor family is locked out of the 100-series chipset firmware. In order to run one of these processors, a user will have to buy a motherboard that supports either the C232 or C236 chipsets. These chipsets are ultimately offshoots of the consumer line, with C236 almost mirroring the Q170 platform and C232 going down the B150 route.
Skylake Chipsets
C236
C232
Q170
B150
Supports Intel Core CPUs
Yes
Yes
Yes
Yes
Supports Intel Xeon E5-1200 v5 CPUs
Yes
Yes
No
No
SLI Possible
Yes
No
Yes
No
Chipset PCIe 3.0 Lanes for HSIO
20
8
20
8
USB 3.0 Ports
10
6
10
6
USB 2.0 Ports
4
6
14
12
SATA 6 Gbps Ports
8
6
6
6
M.2 PCIe Support in RST
Yes
No
3
No
vPro Support
Yes
No
Yes
No
Intel SIPP
Yes
?
Yes
No
Intel Small Business Advantage
Yes
?
Yes
Yes
TDP
6 W
6 W
6 W
6 W
Recommended Price
$49
$34
$47
$28
Most Skylake E3-1200 v5 Xeon focused motherboards we've seen for sale to consumers are C232 based, and will be similarly priced. It should be noted that for SLI, only C236 motherboards are supported, and only if the manufacturer has paid the licensing fees to enable it. At present, I've only seen two or three C236 motherboards for sale that are SLI capable – the B2B focused motherboard in this review (the GIGABYTE MW31-SP0) and the more consumer oriented GIGABYTE X170-Extreme ECC (which we also have in for review), plus I think one other exists commercially.
The thing here is that server chipset based motherboards are unlike consumer motherboards. They are built for function over user experience, often with very consumer unfriendly features such as large complex BIOSes and wording more akin to IT professionals discussing the hardware than a casual buyer. We currently have motherboards in from ASRock and GIGABYTE's regular motherboard business units that are more consumer-like in appearance, and we'll get to those reviews over the next few weeks.
GIGABYTE Server MW31-SP0 Overview
When moving away from the regular consumer coverage in motherboards we normally do, it is important to understand how use cases will differ in the workstation, B2B and enterprise spaces. Imagine a company down the road that requires 1000 new personal computers for their staff - the units have to be powerful enough for the next multi-year upgrade cycle but also need high stability and good support packages to ensure that any downtime is quickly resolved. This is partly why we see contracts end up with Dell, HP, Lenovo and plenty of smaller businesses that buy in parts from manufacturers but do local on-site support for clients.
Ultimately this is what motherboards like the MW31-SP0 are set to service. A quick look at the motherboard price ($370) for the feature set might feel a bit much, but ultimately the system integrators using these systems aren't paying for individual board sales. Similar to our review of the Lenovo P900 workstation back in 2014, an end user could build a similar system for just over half price, but that doesn't come with support, but also when we spoke to Lenovo they mentioned that individual sales were an exceptionally small part of their sales strategy, when long term contracts don't pay 'the list price'.
All that being said, the latest news coming out of GIGABYTE's server division is that they want to be more accessible and approachable to both end-users and business clients, and hence why most of their new ATX, E-ATX and CEB/EEB sized motherboards can be found on Newegg. So if you really need a single unit, a retailer can easily ship one to you.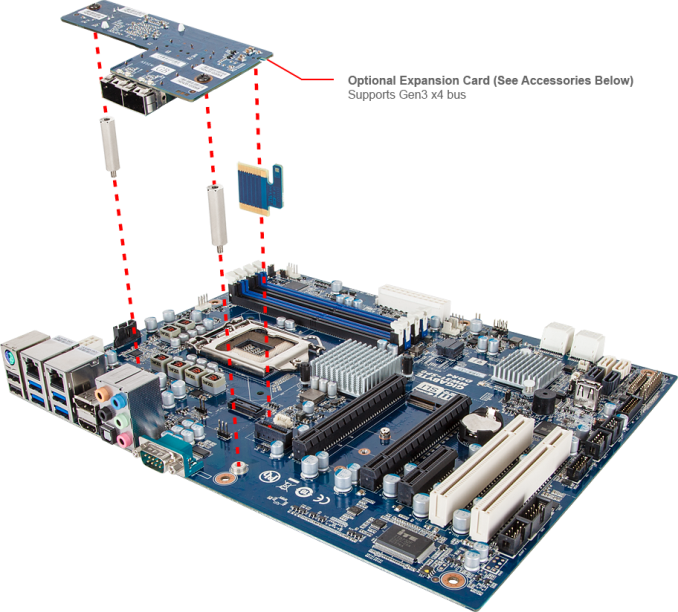 The MW31-SP0, on the whole, easily blurs into the motherboard ecosystem. At $370, the main selling points are two-fold. Firstly, this is only one of two or three C236 motherboards we've seen so far that supports SLI for Skylake Xeons, but for whatever reason it has been implemented differently here. There is an onboard PLX8747 PCIe switch which splits some of the CPU lanes into two sets of 16, enabling PCIe 3.0 x16/x16 between the PCIe slots. This enables significantly faster GPU-to-GPU communication compared to the regular x8/x8 we would expect on the PCIe root complex, however it comes at a large cost. Since Avago (now Broadcom) purchased PEX, the company that made the PLX8747, prices of this chip for motherboard manufacturers have doubled, making it a very expensive add-on. This probably accounts for $100 of the final cost of the board.
The other main selling point is the integrated PCIe 3.0 x4 mezzanine card slot which should allow business customers to customize the system with either additional networking (10GBase-T, SFP), storage or control at extra cost. In order to use the mezzanine card slot the user has to source one of GIGABYTE's add-in cards. This is, for lack of a better purpose, a glorified PCIe slot. However, in thin server chassis when the regular PCIe slots use ribbons to extend to cards elsewhere in the design, the mezzanine form factor allows for more function right next to the rear panel. If you need that sort of thing.
Other functionality on the MW31-SP0 includes a single NVMe enabled M.2 port running at PCIe 3.0 x4 speeds, and dual Intel network ports including the lower power vPro focused I219-LM controller alongside a regular I210. There's also a TPM header, a rear serial port, and internal COM header, and two PCI slots. Having legacy connections is often a regular feature on these types of motherboards, because replacing a $1000 PC with the latest processor and storage is cheaper than replacing a $500K machine that only communicates via a special PCI card. In order to enable PCI on new platforms, because Intel has removed it from the chipset, requires a PCIe to PCI bridge chip that invariably comes at a small cost to the motherboard manufacturer.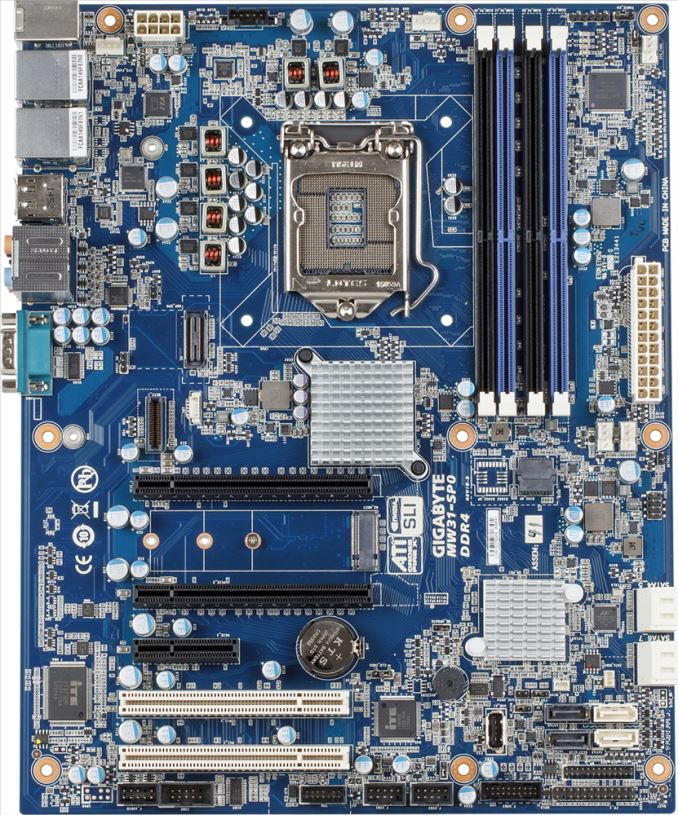 There are a few downsides on the hardware for sure - the Realtek ALC887 codec is one of the cheapest versions we only usually see on sub-$70 motherboards, but also there's no IPMI control. Normally we would see an Aspeed chip providing the functionality on enterprise level motherboards, but we get nothing here. This makes diagnosing issues on the motherboard without a two-digit debug code pretty frustrating, because at this price I would have expected one. There's also no USB 3.1 controller, with the system relying on the chipset USB 3.0/2.0 ports - I guess on the upside there is a mid-board USB 2.0 Type-A port for software license dongles.
System performance shows long POST times, high DPC Latency and poor audio scores due to the low-end codec. Users looking for a good BIOS or software package will be disappointed - the BIOS is non-graphical and reminiscent of the early 2000s for user experience, and there is no software. The in-box contents are minimal as well, with only a set of SATA cables and an SLI bridge.
Quick Links to Other Pages
In The Box and Visual Inspection
BIOS
System Performance (Audio, USB, Power, POST Times on Windows 7, Latency)
CPU Performance, Short Form (Office Tests and Transcoding)
Gaming Performance 2015 (R7 240, GTX 770, GTX 980)
Conclusions
Quick Board Feature Comparison
Z170 Motherboard Comparison
GIGABYTE MW31-SP0 (C236)
Socket
LGA1151
LGA1151
MSRP at Review
$370
$240
DRAM
4 x DDR4
4 x DDR4
PCIe Layout
x16/x16 (via PLX)
x8/x4/x4
BIOS Version Tested
F02
1.4
MCT Enabled Automatically?
No
No
USB 3.1 (10 Gbps)
None
ASMedia ASM1142
1 x Type-A
1 x Type-C
M.2 Slots
1 x PCIe 3.0 x4
3 x PCIe 3.0 x4
U.2 Ports
No
No
Network Controller
1 x Intel I219-LM
1 x Intel I210
1 x Intel I219-V
1 x Intel I211-AT
Audio Controller
Realtek ALC887
Realtek ALC1150
HDMI 2.0
No
No