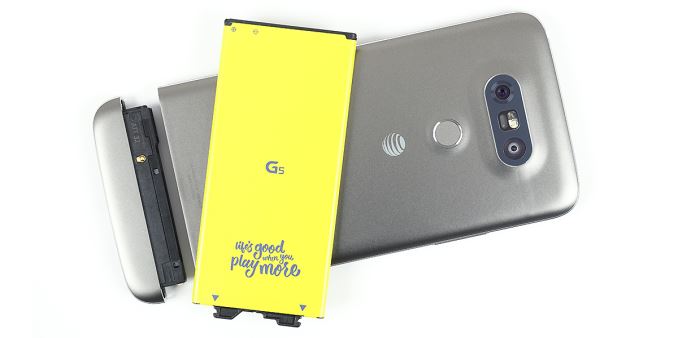 While Samsung took its Galaxy lineup in a new direction last year, LG moved its G Series along a well-traveled road. The LG G4 retained the same design language and features as the G3, and its upgraded cameras and new wide-gamut display were not enough to keep it from falling further behind other flagship devices. The G4 eventually veered into the upper mid-range lane, allowing LG's more luxurious V10 to pass by in the flagship express lane.
The G4's SoC was one of the components that limited its peak performance. After LG saw demand for its G Flex2 melt away after reports of overheating, it switched from using Qualcomm's octa-core 810 SoC to the hexa-core Snapdragon 808 for the G4, which was at least less prone to thermal throttling; however, it failed to give the G4 a significant edge in performance or battery life over its predecessor.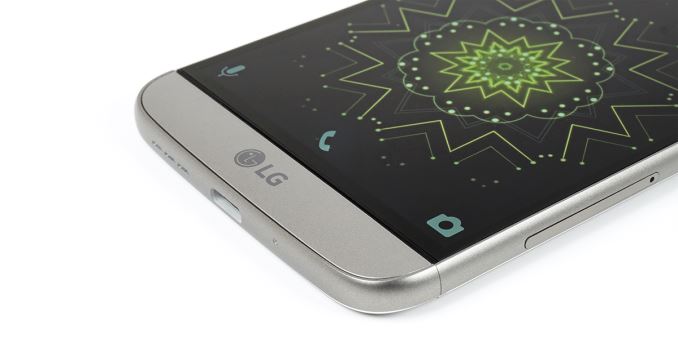 Tired of moving along at a slower pace, LG decided to overhaul its G Series. The new G5 receives an aluminum body with a fresh coat of paint and the Snapdragon 820 SoC. Built around four of Qualcomm's custom-designed 64-bit Kryo CPU cores and a new Adreno 530 GPU, the 820 provides a performance boost over previous Snapdragon SoCs in specific workloads and is proving to be a popular choice for current generation phones.
Like Samsung's Galaxy S7, the G5 comes with 4GB of LPDDR4 RAM and 32GB of UFS 2.0 NAND. LG does not offer any SKUs with more internal storage, so using the microSD slot is the only way to increase capacity. The G5 also adopts the new, reversible USB Type-C port (but only supports USB 2.0 transfer rates) and adds a second spatial stream to the 802.11ac Wi-Fi, elevating maximum theoretical bandwidth to 867Mb/s.
LG G Series
LG G5
LG G4
SoC
Qualcomm Snapdragon 820
(MSM8996)

2x Kryo @ 2.15GHz
2x Kryo @ 1.59GHz
Adreno 530 @ 624MHz
Qualcomm Snapdragon 808
(MSM8992)

4x Cortex-A53 @ 1.44GHz
2x Cortex-A57 @ 1.82GHz
Adreno 418 @ 600MHz
RAM
4GB LPDDR4-3188
3GB LPDDR3-1866
NAND
32GB (UFS 2.0)
+ microSD
32GB (eMMC 5.0)
+ microSD
Display
5.3-inch 2560x1440 IPS LCD
5.5-inch 2560x1440 IPS LCD
Dimensions
149.4 x 73.9 x 7.7 mm
159 grams
148.9 x 76.1 x 6.3 - 9.8 mm
155 grams
Modem
Qualcomm X12 (Integrated)
2G / 3G / 4G LTE (Category 12/13)
Qualcomm X10 (Integrated)
2G / 3G / 4G LTE (Category 6/9)
SIM Size
NanoSIM
MicroSIM
Front Camera
8MP, 1/4" Toshiba T4KA3, 1.12µm pixels, f/2.0, HDR, screen flash
8MP, 1/4" Toshiba T4KA3, 1.12µm pixels, f/2.0, HDR, screen flash
Rear Camera
Primary: 16MP, 1/2.6" Sony IMX234 Exmor RS, 1.12µm pixels, f/1.8, Laser AF, 3-axis OIS, HDR, color spectrum sensor, LED flash
16MP, 1/2.6" Sony IMX234 Exmor RS, 1.12µm pixels, f/1.8, Laser AF, 3-axis OIS, HDR, color spectrum sensor, LED flash
Wide Angle: 8MP, Sony IMX268 Exmor RS, 1.12µm pixels (assumed), f/2.4, wide-angle (135°), Laser AF, OIS, HDR, color spectrum sensor, LED flash
Battery
2800 mAh (10.78 Wh)
replaceable
3000 mAh (11.55 Wh)
replaceable
Connectivity
802.11a/b/g/n/ac 2x2 MIMO, BT 4.2, NFC, IrLED, GPS/GNSS, SlimPort, DLNA, USB 2.0 Type-C, LG Modular Port
802.11a/b/g/n/ac, BT 4.1, NFC, IrLED, GPS/GNSS, SlimPort, DLNA, microUSB 2.0
Launch OS
Android 6.0.1 with LGUX 5.0
Android 5.1 with LGUX 4.0
Launch Price
(No Contract)
~630 USD retail (US)
~649 USD retail (US)
The G4's 8MP front-facing camera carries over to the G5, as does the 16MP Sony IMX234 rear camera, which resides in an upgraded module developed by LG Innotek. Sitting next to the 16MP primary rear camera, however, is a second 8MP camera with a wide-angle lens. Its 135° horizontal field of view—compared to 78° for the primary camera—allows you to capture more of your surroundings in each image, useful in large, open spaces or when taking group photos. There are drawbacks to using a wide-angle lens, though, which we'll cover more in-depth later when we evaluate camera performance.
The G5 also gains an always-on display feature similar to the Galaxy S7. LG first explored this idea with last year's V10, adding a small second screen above the large main screen. The G5's implementation is more conventional, doing away with the second screen and keeping only a subset of the V10's functionality. It shows the time centered near the top of the screen with the date below in a smaller font when the phone is asleep. Notifications show up as small icons below the date, informing you about new email or text messages without revealing any sensitive information. There's also an option to replace the time with a customized static message roughly twelve characters in length, which just seems silly.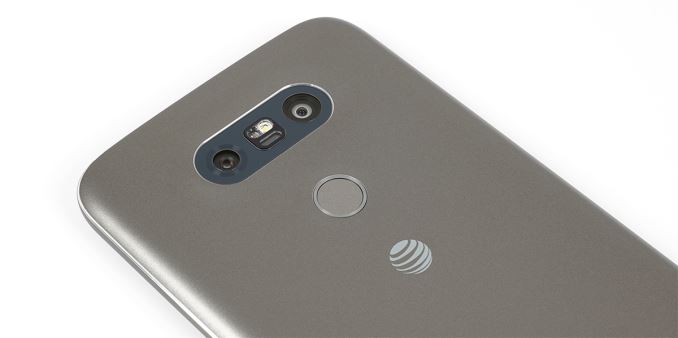 An always-on display feature makes a lot of sense when using an OLED panel that only needs to power the few pixels actually in use. The G5 uses an LCD panel, however, which needs to power the backlight whether it's showing a single pixel or all of them. To reduce power consumption, LG is using a new LED driver IC that divides the backlight into two separate zones that can be powered on independently. Thus, only about the top one-third of the display is active when using the always-on feature. The G5's display also supports panel self-refresh, which helps save power when the screen's content is static. Based on LG's power figures, the always-on display should drain the battery by about 10% over a 12 hour period, which could be less than the amount used if you're constantly turning the display on to check the time or for new notifications. The G5 also uses the ambient light sensor to turn off the display when it senses it's in a pocket or purse or even when lying face down. The feature can also be disabled in the settings menu.
It seems like every smartphone has a fingerprint sensor nowadays, and the G5 is no exception. Integrated into the power button on the back of the phone, the new circular, touch-based sensor wakes up and unlocks the phone with a single press. Like other capacitive sensors, it does not handle moisture or changes in temperature well. I also experienced a higher rejection rate initially with the G5 than I did with the Nexus 6P because my finger did not always land on the sensor the same way. Registering the same finger in a few different positions improved performance, but the G5's experience was never as seamless or quick as some of the other devices I've used, including the 6P, iPhone 6s Plus, and Galaxy S7. On several occasions I had to punch in my pin code after locking out the fingerprint sensor with five failed attempts.