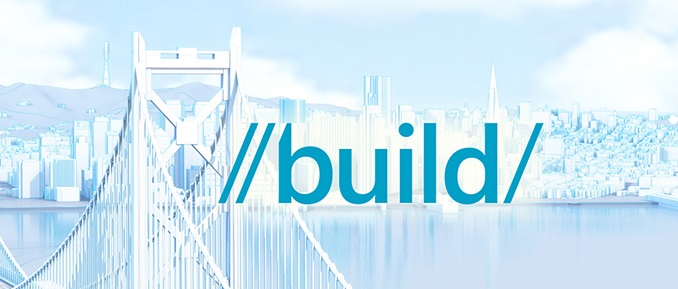 Windows 10 is unlike previous versions of Windows in that the original intent was to have it constantly updated over its lifetime. We've already had one big update with the November update, back in, you guessed it, November. The second update is code named Redstone, and all of the latest insider builds have features the RS in the naming scheme. Today at Build, Microsoft announced they will be calling this update the Windows 10 Anniversary Edition, and it will be available this summer.
Someone much more philosophical than myself once said "A rose by any other name would smell as sweet" and I'm sure that applies here as well. With this choice in naming schemes I don't really know where they go on the next update, but regardless the product is going to be known as Windows 10 anyway, so maybe this doesn't matter.
We've known about a few of the big updates coming to Windows 10, with things like Extension support in Microsoft Edge, but today Microsoft announced a few other important pieces as well coming later in the summer.
The first was better inking support. Microsoft has worked hard to ensure that inking and pen usage in Windows is as first-class as keyboard and mouse, and with this update inking will get even more powerful. There will now be an inking hub which can be opened by clicking the pen, and this hub will surface apps that support inking, as well as frequently used apps that you use with the pen.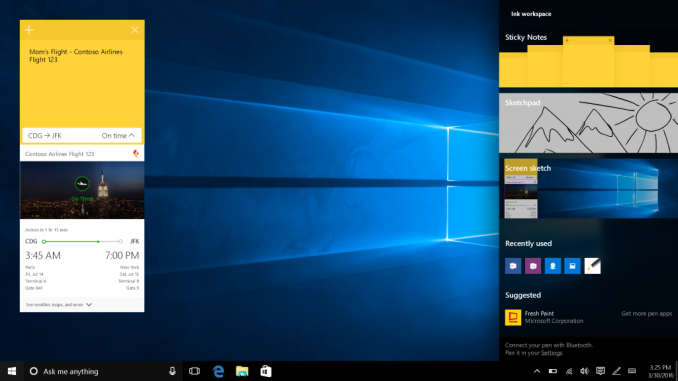 They also showed off how writing in a sticky note can be used by Cortana to add appointments to your calendar, among other things. For instance, if you write in a note that you are meeting with Fred at 3pm tomorrow, Cortana will be able to action that information to set up the appointment for you.
One other inking improvement, which is a big one, is the introduction of a software ruler. Now, this may not sound that important, but if you've ever tried to draw with a ruler on a Surface, you would know it's not as natural as doing the same thing on paper. With the new software ruler, you will be able to move it around using touch, and then you can draw and the pen line will stick to the ruler. A more impressive version of this was demoed using Adobe Illustrator, where an artist can use a French Curve which is software based to accurately use it just like as if it was a physical version of the same thing. This should help inking quite a bit.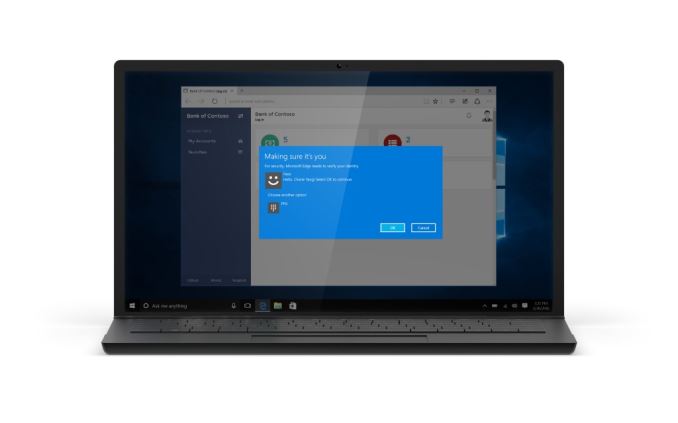 Another new feature coming with the update is Biometric support for Microsoft Edge. Using extensions added to the W3C, Edge will be able to log you into websites with any of the Windows Hello supported biometric logon methods. The demo on screen was using a fingerprint to log in. I need to ask them a few questions about this and see if it's just a rebrand of the Passport idea already, or if this is a new thing, but since it's based on standards in the W3C in theory other browsers could add this as well. The big downside is that sites would have to offer this support, and there's no way to know whether may will.
The last big announcement for this next Windows update is new experiences with Cortana. Cortana will now be available right on the lock screen, so you won't need to login in order to set up new appointments or launch tasks. Cortana is also getting a lot more capabilities through extensibility, meaning Cortana will be able to take care of complete tasks for you. Demonstrated on stage was the ability for Cortana to book a hotel room for you based on an upcoming calendar appointment in another city.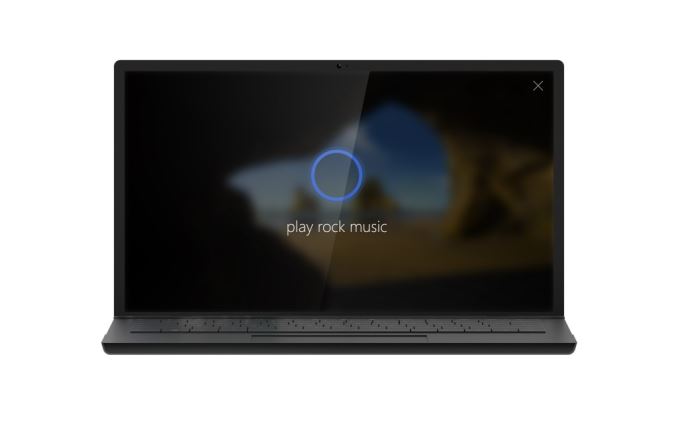 Cortana is also getting its own bot. Bots are small programs that can do tasks for you. In the case of Cortana, it will be able to talk to other bots to complete tasks. In the previous example, Cortana can talk to the hotel's bot in order to set up the room booking without needing much, if any, information from you. Bots were a bit part of the keynote, and Microsoft is announcing the Microsoft Bot Framework in order to let devs quickly and easily build powerful bots which leverage big data services in Azure, and ones that are able to do natural language interaction with people.
Compared to last year, the news was a lot more tame on the Windows side, and that's not surprising really since last year was the lead up to Windows 10's launch, but at the same time there is plenty of things they are adding to make the experience better. There are still two more days left in Build, and I hope to get some Windows questions answered over the next couple of days.